Bounty at Maryport
aka Black Pearl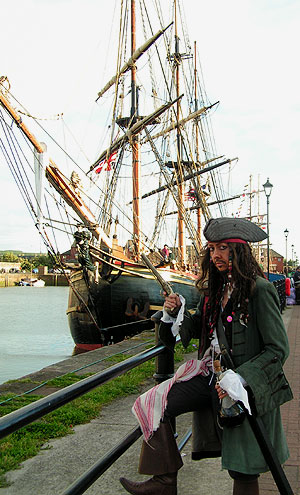 August 14th-17th Maryport Harbour
Pirate fever hits the West Coast again as Jack Sparrow and the Black Pearl sail into Maryport harbour. The ship used to represent Black Pearl in the film trilogy Pirates of the Caribbean is actually the Bounty. This is a replica of the original mutiny ship created to star in, and promote, the 1962 film Mutiny on the Bounty, with Trevor Howard as Captain Bligh and Marlon Brando as Fletcher Christian. As Fletcher Christian's family came from Maryport, it was thought fitting that the Bounty paid the town a visit on its latest tour of the world in which it retraces that fateful journey.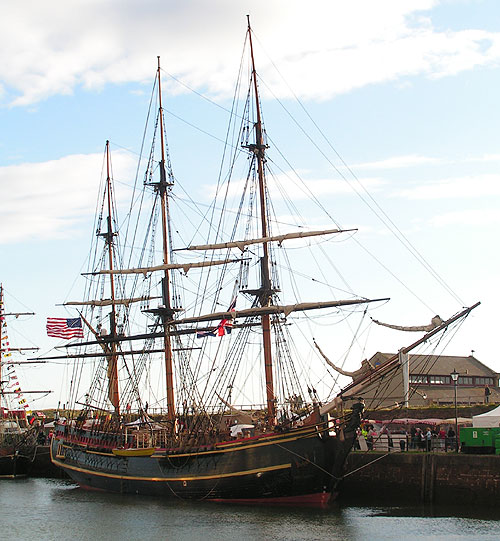 This Bounty didn't have a mutiny but did have a problem with lost communications during the Atlantic passage which prompted the Maryport organisers, worried about its fate, to contact the Irish Coastguard. Nimrod aircraft where sent to up to search and it was located 100 miles off Ireland. Being ahead of schedule it paid an unscheduled visit to Derry for repairs. In a further drama she was delayed entering Maryport by high winds, and a female crew member suffering stomach pains had to be rescued by the coastguard.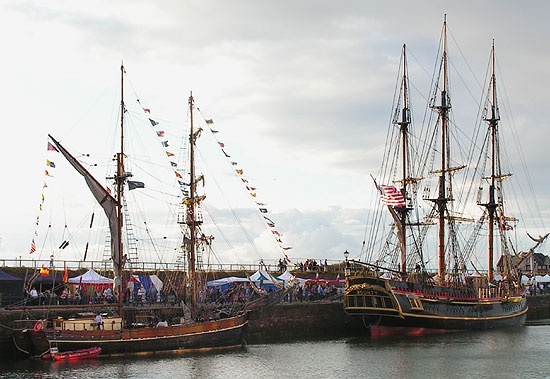 Having survived the crossing it then had to survive a mock battle with Liverpool Tall Ship, Zebu, that had just sailed from Whitehaven. Also, Jack Sparrow was kidnapped by Zebu's crew and ransomed to raise funds for the local lifeboat.

The regenerated harbour-front at Maryport provided a good setting for such a magnificent tall ship and along with tall ship Zebu and a continental market encouraged an estimated 45,000 visitors to get a close inspection of this Hollywood movie star.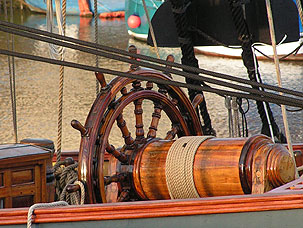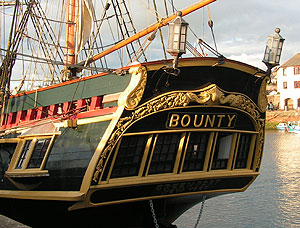 Being created for a movie the attention to detail was significant with the wheel being elaborately carved and more intricate carving around Captain Bligh's cabin windows. It can also be seen that this Bounty is registered in Greenport, New York, although it was built in Nova Scotia when commissioned by MGM and spent many years in St. Petersburg after the film.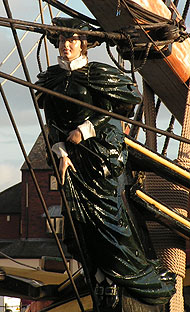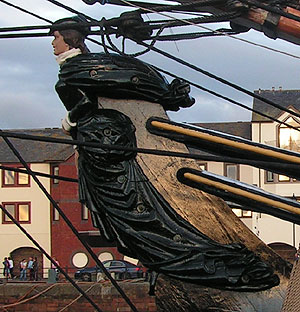 The figurehead is of Bethia, described by Bligh as a well carved figure of a woman in riding clothes. She is attached to the bows by her flowing cloak and dress wrapped around the prow. Bethia was the name of the original collier ship built in Hull in 1784 which was converted under Bligh in 1787 for the Royal Navy's expedition to take Breadfruit from Tahiti to feed slaves in the West Indies. It is from that conversion that the plans used to produce this replica were taken - although they were scaled up a third to allow for the logistics of the huge Ultra-Panavision cameras used in the movie. This ship is 120 feet in length with 30 ft beam and a displacement of 412 tons.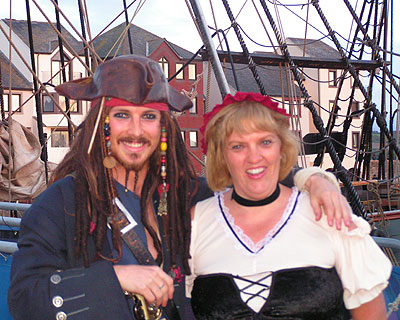 In connection with the movie Pirates of the Caribbean, actor Johnny Paton playing the part of Jack Sparrow (Johnny Depp in the movie) was available for photos - seen here with a local wench that had succumbed to his charms. The Bounty was heavily disguised in that film as Sparrow's ship the Black Pearl.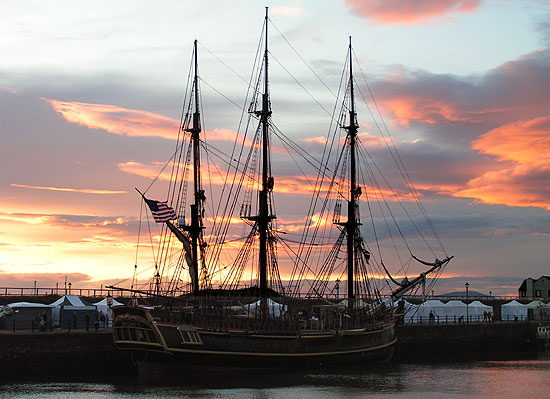 Unfortunately due to tides and bad weather, Bounty had to sneak out of Maryport in the early hours of Friday morning to avoid being harbour bound for days. This was disappointing to the many people who had hoped to see her sail that afternoon but it had generally been a successful visit.