Tour of Britain 2013 - Stage 2 - Whitehaven
Stage 2 in Whitehaven
With the huge increase in the popularity of cycling due to the success of British cyclists it was great news to see that this year's tour of Britain included Whitehaven.
Stage 2 of the tour was from Carlisle to Kendal including West Cumbria passing through Cockermouth, Maryport, Workington and Whitehaven before heading past the lakes of Loweswater, Crummock Water and Buttermere and finally heading back to the central lakes of Derwent Water and Windermere passing through the tourist hot spots of Keswick, Grasmere and Ambleside before reacing Kendal.
Cumbria decided to throw all the elements at the cyclists with gale force winds and driving rain making the already difficult terrain a superb challenge.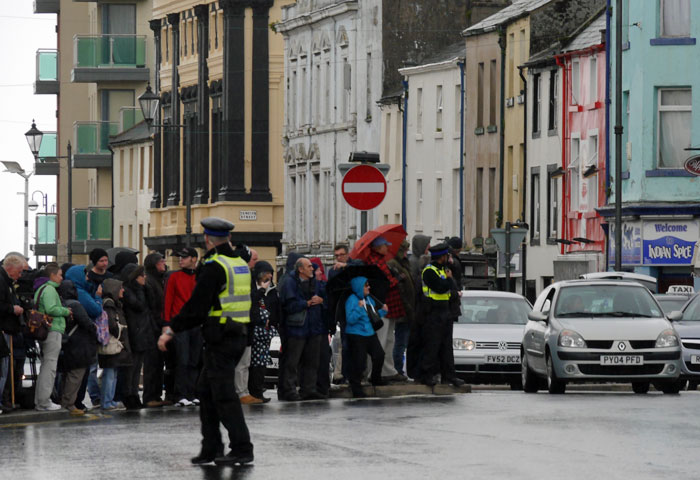 By the time they arrived in Whitehaven they were already outside of the slowest predicted times on the schedule. So many of the spectators were soaked by the time they arrived but there was still plenty of enthusiastic support gathered to welcome them through the town.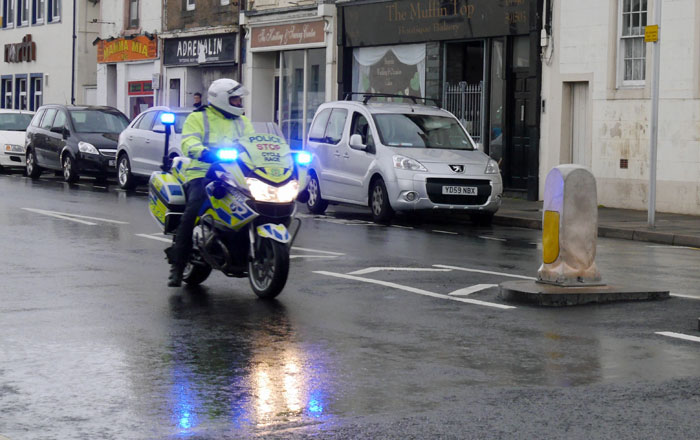 Precursors to the cyclists was several police and other support motorcycles.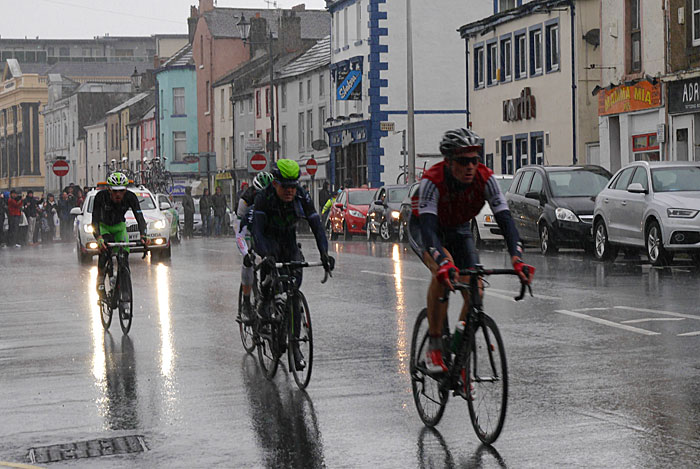 A breakaway group of 7 riders had several minutes lead over the rest of the Peloton as they passed through the town centre.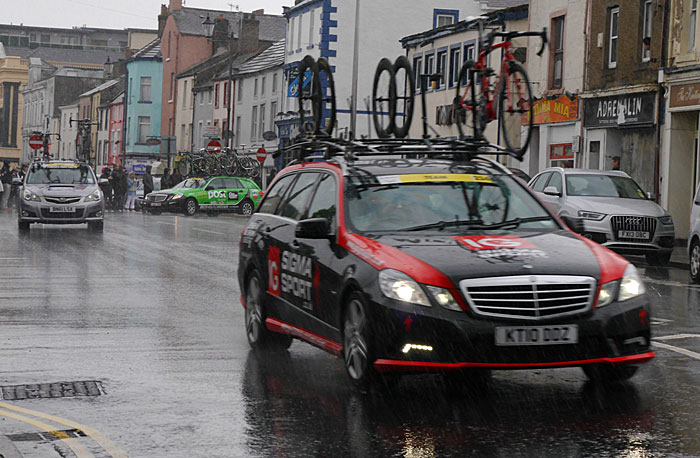 A few of the support vehicles with spare bikes and wheels on top gave a clue that the Peloton was about to arrive.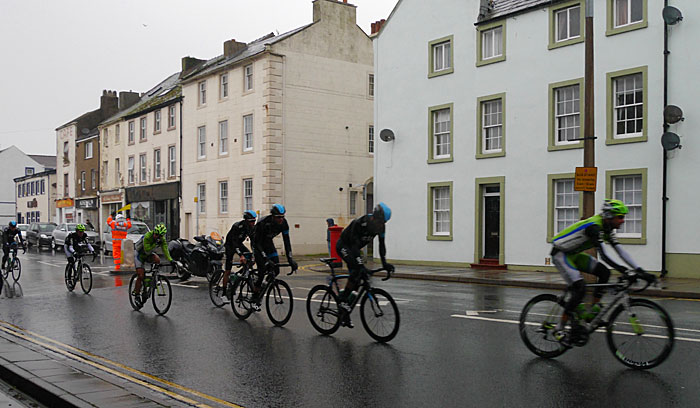 Then the main group arrived and sped around the very wet corners without any spills as the rain seemed to increase with their arrival. Three members of Bradley Wiggin's Sky Team were towards the front of the pack but the great man later had a fall in the lakes and was 18th in the stage.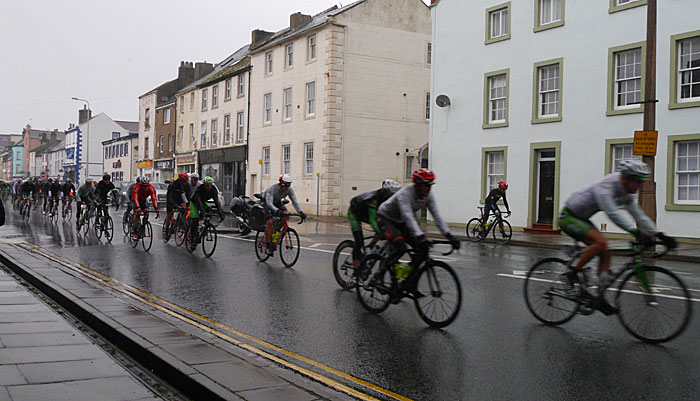 It was interesting that one of the IG Sigma Sport team decided to stop to put his rain jacket on - leaving one to wonder why he left it off in the first place as it had been raining almost continually for 2 days. The main body of the peloton were quite closely bunched and so they passed within a matter of seconds.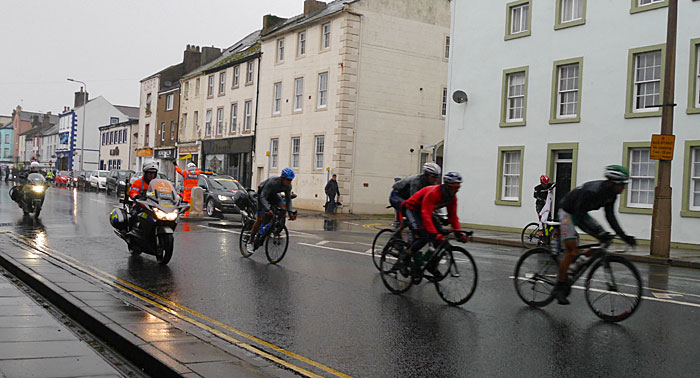 The back of the peloton was indicated by the arrival of more support vehicles.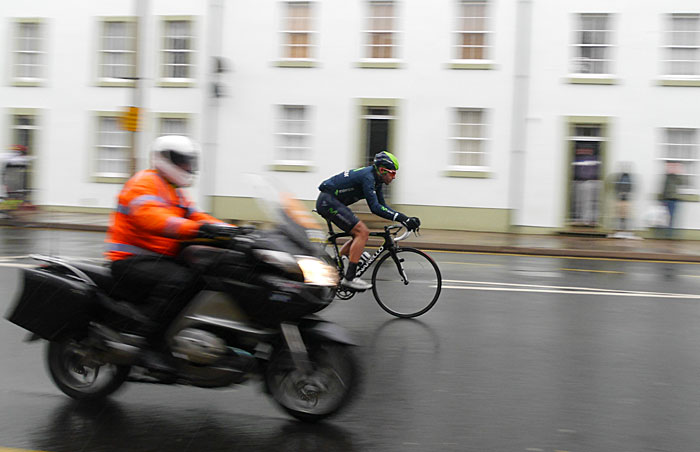 Even the guys behind the main pack were flying down Duke Street probably breaking the speed limit.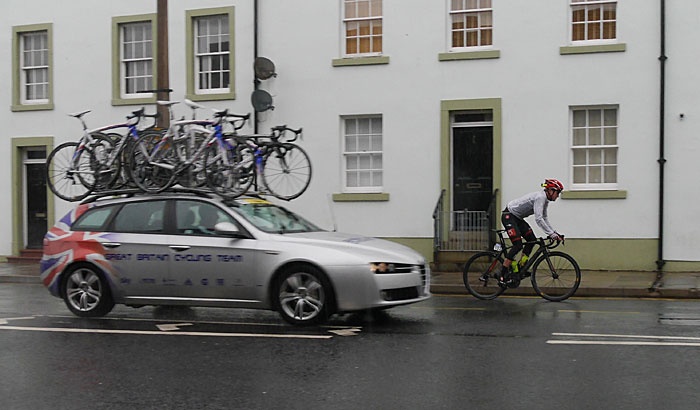 Finally with his jacket on the IG Sigma cyclist was going again just before the last rider.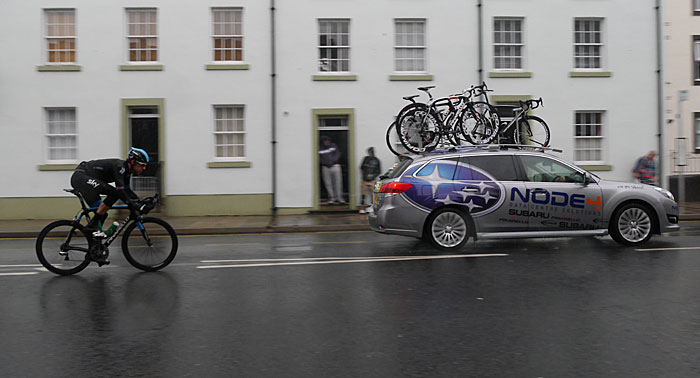 The last cyclist through was one of the Sky team followed by a host of support vehicles. The final winner, of the what was described as one of the best ever stages of the Tour, was Gerald Ciolek of team MTN Qhubeka in an amazing finish which involved a breakaway leader being caught in the last few hundred yards by the Peloton.
One of the most spectacular parts of the the stage was Honister pass, where hundreds of cycling fans had climbed to the top to watch the riders struggle up the 25% gradient, but the King of the Mountain for that section, Angel Madrazo Ruiz, appeared to do it with ease.
Return to Western Lakeland Events
© WAWL 2013