Emeraude France
Whitehaven to the Isle of Man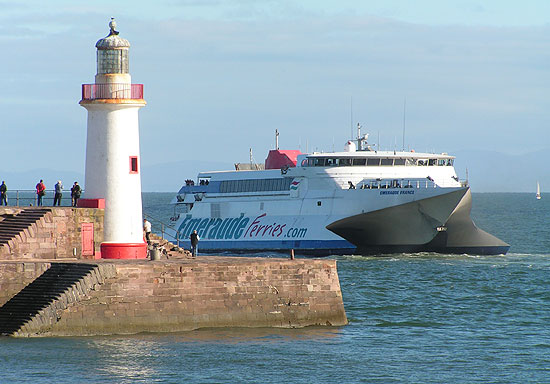 August 8th 2007 Whitehaven Harbour
Another first for Whitehaven was a fast craft ferry service by the Isle of Man Steam Packet company providing the fastest crossing so far to the island. Having disembarked passengers from the I.O.M. and leaving North pier at 8.15am by reversing out of the harbour, this superb vessel, the Emeraude France, would take just over an hour to reach Isle of Man waters once under way, with a total journey time of an hour and a half. This obviously leaves much more time for visiting the island. The journey was also blessed with glorious sunshine and reasonably flat seas.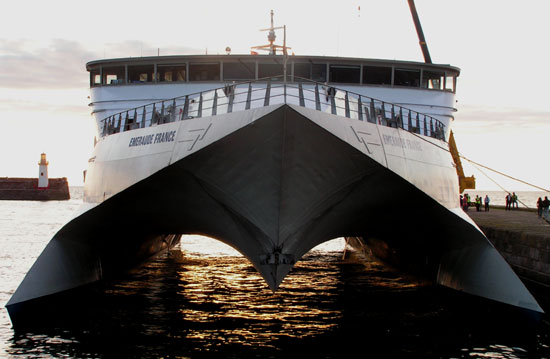 Returning at 8 o'clock in the evening, the huge vaulted underside of the catamaran style hull of the Emeraude France could be seen as it moored against the North wall. Built in 1990, in Tasmania, this ferry has had several names but probably best known in this country as the Seacat France from when it was run by Hoverspeed across the channel. At 74m in length and 25m breadth it is one of the largest ships to enter Whitehaven harbour and with a top speed of 36 knots it may also be one of the fastest.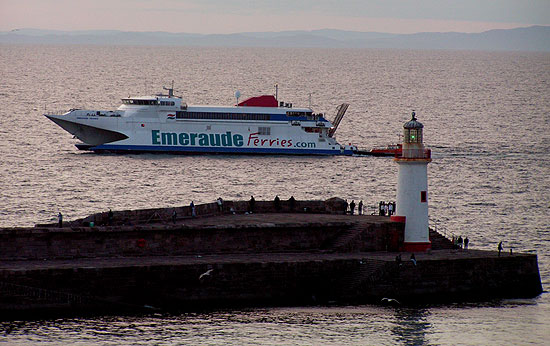 At 9 o'clock Emeraude France set off for the final return trip to the Isle of Man as the sun was setting on the Solway Firth.
Surely, if a more regular service could be established in the summer months and properly publicised, taking holiday makers from the Lake District to the Isle of Man, this could only benefit both economies.

Let's hope we see a return of Emeraude France in the future.