John Paul Jones
U.S.S. Ranger encounters H.M. Hussar
Captain Gurley was the master of H.M. Hussar a customs vessel working out of Whitehaven where the newly appointed inspector of customs was Richard Wordsworth, uncle of the famous poet. He was on a cruise looking for potential smugglers when on the 19th of April at 10 a.m. he saw 2 ships off the Point of Ayre at the northern tip of the Isle of Man. One was a cutter acting suspiciously, in that it was lingering rather than making good way as it would on a voyage. When he sailed towards this vessel it headed off for the Scotch coast as though heading for the Bay of Glen Luce in Galloway which agreed with Gurley's suspicions.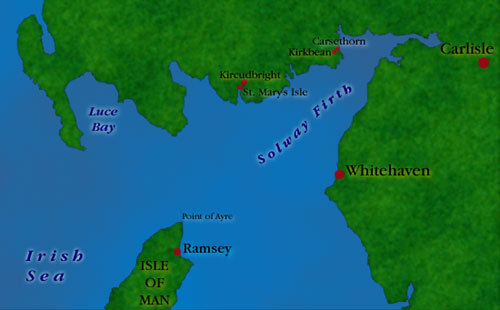 At about 1 p.m. near the Big Scares, at the entrance to Luce bay, the other ship approached and hailed to the Hussar asking who she was and for where she was bound. Gurley flying the Custom house colours answered that they were the revenue vessel from Whitehaven on a cruise. The ship asked if they could supply a pilot to come on board. Gurley responded that they couldn't spare one as they were on a cruise. He then asked who the ship was and where it was bound. The reply came that she was the Molly of Glasgow.
This was a ruse by John Paul Jones. Gurley couldn't have guessed the fact that she was actually the U.S.S Ranger as news of Jones's actions hadn't yet reached Whitehaven. Claiming he was a stranger on the coast, he once more appealed for a pilot (A trick he later used to capture a Lieutenant from the Drake before his battle with that ship). Captain Gurley, spending all his life trying to catch wily and dangerous smugglers, possibly had a suspicion something was amiss and again he refused the pilot. Failing in subterfuge John Paul Jones decided to use force, ordering Gurley to bring to or be sunk. Suddenly Ranger's gun ports were opened and the cannon rolled out. The decks had up to this point held only 3 men on the quarter deck and 7 or 8 on the main deck – suddenly they were filled with armed men that had come out of hiding.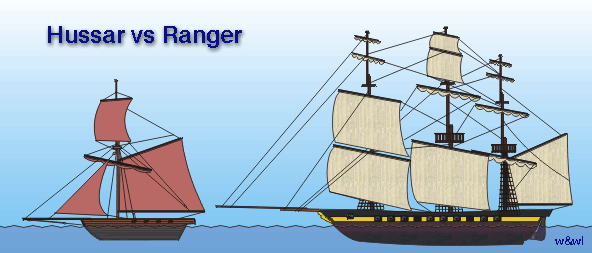 Showing great skill and fortitude Captain Gurley managed to use the only advantage of being a smaller vessel. The winds were moderate so although Ranger was faster than Hussar she was slower to manoeuvre. Captain Gurley knew his only chance was to tack to the quarter of Ranger avoiding a broadside and managed to do this repeatedly, avoiding the worst of her fire power. Despite this the rigging and sails were badly shot up but only one shot went through the hull. Surgeon Green aboard Ranger believed if his captain had allowed the marines to fire with muskets when the Hussar was close they would have easily taken it.
Gurley initially headed for Belfast to warn the navy but contrary winds thwarted this and he returned home to Whitehaven. Once there he described the ship that had attacked him as about 250 tons burthen, hake sterned, with badges on her quarters; a figure head, inclining to the left, and painted yellow; her sides brown with a yellow stroke around, and mounting 20 guns, six and nine pounders. (Actually there were only 18 guns though the hull was pierced for 20).
©W&WL 2007