John Paul Jones
John Paul Jones Web Links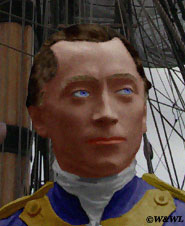 click the hyperlinks to visit these other sites on John Paul Jones
John Paul Jones Websites
Seacoast New Hampshire the best American website with lots of articles on John Paul Jones research.
Birthplace - website of the John Paul Jones Birthplace museum trust.
Naval Biography - at the U.S. Navy historical center
John Paul Jones house - His house in Portsmouth N.H.
USS John Paul Jones - Official web site for American Naval Ship USS John Paul Jones
ussjohnpauljones.org - Support site for USS John Paul Jones
Documents
Journals - Extracts from John Paul Jones journals
Letters - Two letters
Medical Investigation - Medical article on Jones death
Surgeon Green's Diary - Transcript of log kept by Ezra Green onboard Ranger
Old Biography - Hutchins Hapgood 1901 biography in full
The Musical - Website of the JPJ musical by Julian Wagstaff

- note I do not have any control over these external sites but if you find a broken or inappropriate link please let me know via the contact form from the home page.
Return to John Paul Jones Index
©W&WL 2009