John Paul Jones
USS Ranger after the Whitehaven Raid of 1778
Jones attempts the kidnap of Lord Selkirk
Having failed to set light to Whitehaven, John Paul Jones next objective was to kidnap an important member of the aristocracy to force the British government to free their American prisoners. Again he used his local knowledge to sail across the Solway Firth and into the channel leading to Kirkudbright where he landed on the peninsular called St. Mary's Isle to capture Lord Selkirk.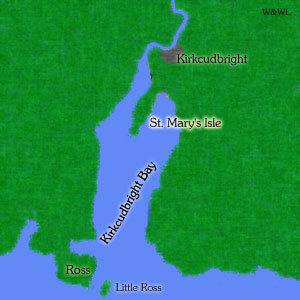 There were three points of failure to this plan. The first was that although Lord Selkirk seemed a very important person to Jones, having been the local Lord who his father no doubt bowed to, he was of little importance to the King and his ministers, back in London, 400 miles away. The second point was that Selkirk disagreed with them and was sympathetic to the American cause and the third was that he was away from home, apparently in Buxton taking the waters.
On discovering his absence, Jones was about to abandon the mission but his mercenary crew demanded that they benefited from their troubles and looted the house. John Paul Jones feeling his command slipping away acquiesced to their demands on condition that they took only the silver and didn't in any way harm the women of the house. Whether this was due to his ideal of gallantry or a dawning of how bad this whole affair was beginning to look we can only guess, but he made much of it later.
Assuming that Ranger's men armed with pistols and cutlasses were a British press gang, the local men made themselves scarce. So, as Jones impatiently paced up and down the gardens, Lt. Wallingford and Master Cullam walked into the house that their crew had surrounded. They demanded the silver but courteously informed Lady Selkirk that she and her servants wouldn't be harmed as long as they followed instructions. Despite being heavily pregnant, Lady Selkirk having sent most of the household upstairs, showed typical British reserve and fortitude as she faced the robbers and demanded a receipt of items taken. Wallingford was about to oblige her but Cullam cut him short, no doubt aware that dwelling there too long could cause their downfall – but they left only after partaking of the glass of wine offered to them. The armed locals arrived back at the house shortly after the Americans had made good their escape.
John Paul Jones later sent a letter from Brest to Lady Selkirk justifying his actions and offered to buy back the silver to return to her. The Earl of Selkirk didn't learn of the attack until the beginning of May but eventually sailed back via Liverpool having arrived there from London. On returning home, affronted by Jones' gesture he answered the letter for his wife by refusing the offer in no uncertain terms. Not receiving this reply, Jones completed his promise after the war by returning all the items and thus added to his reputation as a gentleman rogue.
U.S.S. Ranger captures H.M.S. Drake
After eluding Captain Gurley's Hussar, John Paul Jones desperate for some sort of triumph from the voyage decided to have another go at H.M.S. Drake. Though named after the great British hero, Drake was only a minor ship of the Royal Navy, an old tobacco trader captured off the Americans and converted into a sloop of war. With similar capabilities to Ranger, it carried 20 guns of the 6 pounder calibre whereas Ranger had 18 guns. It seems as though it may have had problems with crew - possibly illness. The three Workington lads had been pressed just days before and Lt. Dobbs who had been ashore getting married took a boat out to join the ship as it left due to the infirm state of the Captain and lack of officers - the first lieutenant and boatswain had died a few days earlier.
As Ranger was disguised, with gun ports hidden, the Drake sent a boat out to investigate her. The Midshipman in charge was invited aboard where he was then informed by Jones that he was a prisoner along with the 5 crew. This greatly encouraged Ranger's men who now fancied the fight.
H.M.S. Drake then came out to meet U.S.S. Ranger and the battle ensued. In 1 hour 5 minutes, Jones and Ranger succeeded in doing what few others had done at that period – beating a Royal Navy ship. It seems likely that the victory was due to John Paul Jones's strategy of filling the tops with sharpshooters and these accounted for the death of Captain Burden of the Drake shot through the head. Lt. Dobbs mortally wounded survived less than two days and was buried at sea. For such a long battle the body count was surprisingly small. Reports indicated for Drake 3 dead and 20 wounded but Ranger only had two dead - Lt. Samuel Wallingford was shot through the head with a musket and John W. Dangle was in the foretop when he was cut in two by double headed shot. Over a week later Nathaniel Wells died of his wounds. Others injured included James Falls and Thomas Taylor shot by musket in the shoulder and hand respectively and Pierce Powers who lost his right hand and severely damaged the other. As the Drake's sails were in shreds and had lost its main topmast it was an emphatic victory. In fact the Mate called quarters by waving his hat, finding that his survival had left him in command and the flagstaff had twice been shot down.
H.M.S. Drake was then taken to just south of Belfast were it was rigged for sailing back to Brest as a prize and Lt. Simpson was given the job of commanding her. At this point the Cambraes Wherry, another customs vessel, commanded by James Crawford observed them. John Paul Jones then released the Irish fishermen he had taken prisoner with the prize of a boat from Drake to replace their own which had been sunk in bad weather before attacking Whitehaven. They also received sails from the Drake and 17 guineas. Crawford immediately interviewed them, got details of the battle and discovered Jones was heading for Brest. During the afternoon Jones also captured the Whitehaven brigantine Patience which had sailed from Dublin. By the evening Crawford had followed them to the Mull of Kintyre and then headed for the Clyde to inform the frigate Thetis of Jones probable course around the North of Ireland. This was the route Ranger took and then down the western coast to avoid the Royal Navy who now had Thetis from Glasgow, Heart of Oak from Liverpool Boston from Waterford and several other ships looking for her.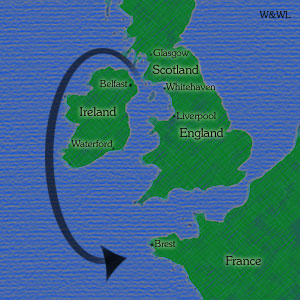 On approaching Brest, John Paul Jones set off after another ship that he hoped to capture but it turned out to be a neutral Swede. Having instructed Lt. Simpson in Drake to stay with him he was so aggrieved that he continued straight on for Brest that he had him arrested. Arriving at Brest on the 7th of May, Ranger's injured were taken to hospital along with 14 of the prisoners from Drake.
From Brest Jones not only wrote the letter to Lady Selkirk but he also addressed one to a British company at Bordeaux expressing his condolences for the death of Lt. Dobbs of the Drake.
This was reproduced in the Cumberland Paquet newspaper:
Brest May 28 1778
To Messrs. John Black and Co. Bourdeaux
"Yours of the 19th, addressed to my care, for Lieut. Dobbs, was presented to me yesterday, it gives me real pain to inform you that he is no more ; he survived the engagement only 36 hours ; in the course of that time I paid him two visits on board the Drake, and found him in such good spirits that I had no apprehension of what so soon followed. I freely consented at the hazard of my life to land him among his friends the day after the engagement, when we passed Belfast, but the surgeon and himself thought the risque too great after a loss of blood. He was buried in the ocean with the honours due to the brave, and the respect due to his private character. I would write to his brother, but wish to avoid the too tender subject. I am convinced he was shewn all possible care ; consequently his hurt exceeded the art of the surgeon and the skill of the physician ; you are at liberty to communicate this account to his relations,
and am,
Gentlemen,
Your most obedient servant,
JOHN P. JONES
©W&WL 2007