Lakes Alive 2013
Whitehaven Harbour 9th-10th August 2013
El foc del mar - Fire of the sea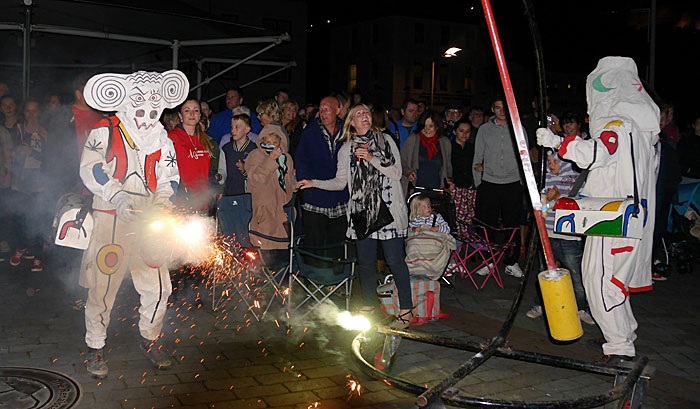 Lakes Alive brought another foreign theatrical troupe to Whitehaven harbour for two nights of spectacular and atmospheric night-time entertainment in August. Celebrating their 30th anniversary Xarxa Teatre are from Vila-real in the Valencian area of Castellón in Spain.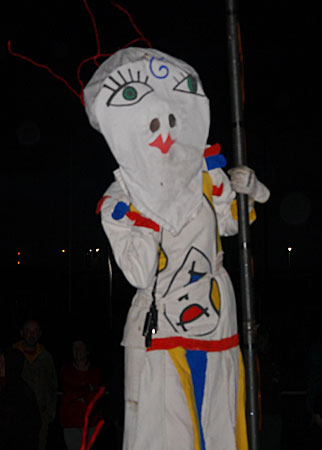 The performers were covered in fireproof costumes from head to foot that were inspired by the artist Joan Miró, a 20th century Catalan artist of international repute.
Although he experimented with various styles towards Cubism and surrealism, Miró is perhaps best recognised for his symbolism combined with child-like simplicity and primary colours seen in the costumes.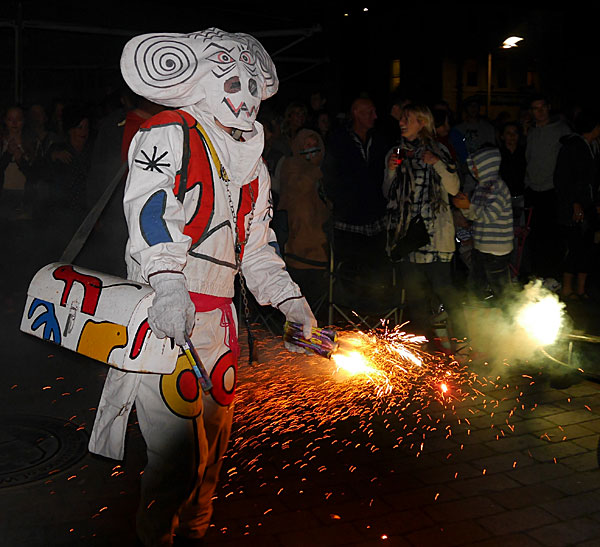 The performers had a box slung over the shoulder full of fireworks to be held in the hand usually showering sparks as they were waved around to the sound of the music.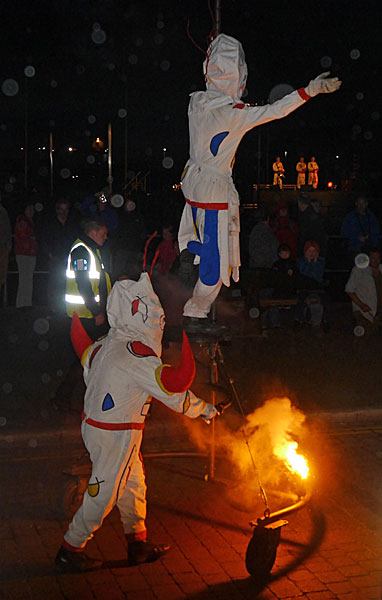 Entitled El Foc Del Mar it was appropriate for the harbour setting as this means Fire of the Sea. The early part of the performance was a sort of ballet with performers on top of mobile trolleys lit by flares that also filled the atmosphere with coloured smoke.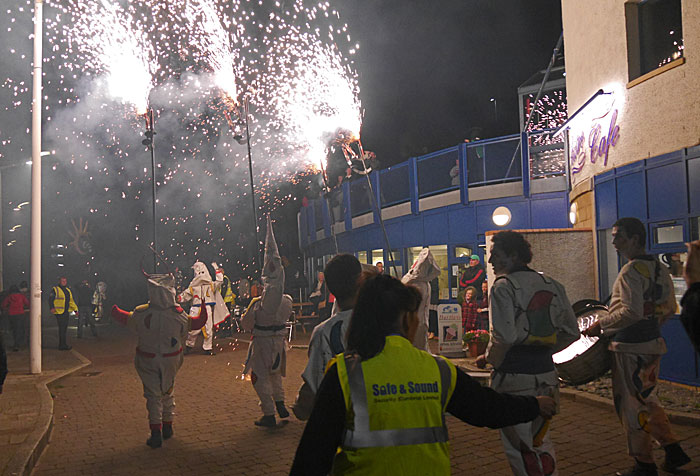 The performance was partly in the form of a parade with the performers moving around the harbour from the Hub to the Beacon and back again.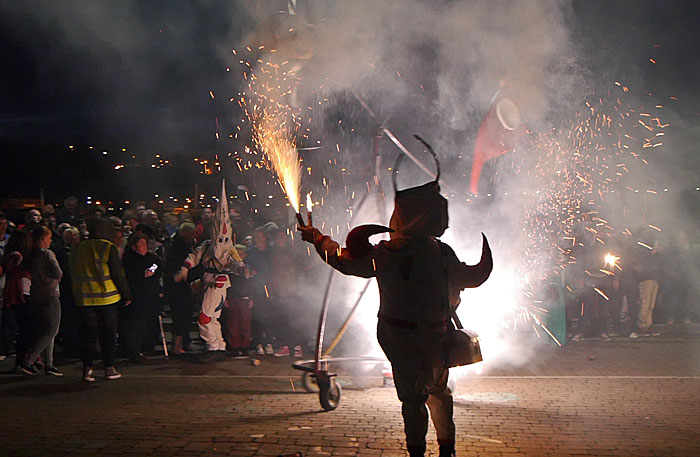 All the time the band played with rhythmic drummers and the melodic dulzaina or gralla which is a traditional type of oboe.
The crowd were encouraged to follow the parade around and at times there were elements of the traditional Spanish Correfoc or Fire-runs where the fireworks are in amongst the spectators.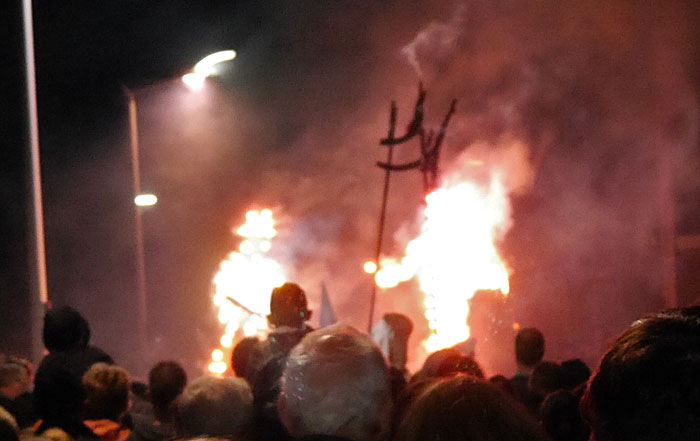 Also there were a few static displays held on poles such as these buring figures but also a thrilling take on the Catherine Wheel which threw out sparks as it span furiously atop a high pole.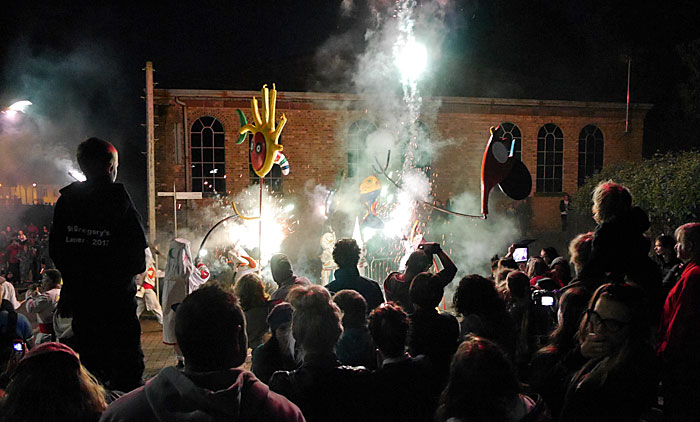 The final performance was back on the Sugar Tongue where it had started. The drummers became louder and quicker as an aerial display of fireworks was followed by the burning known in Spain as la cremà of large sculptures or falles inspired by Miró.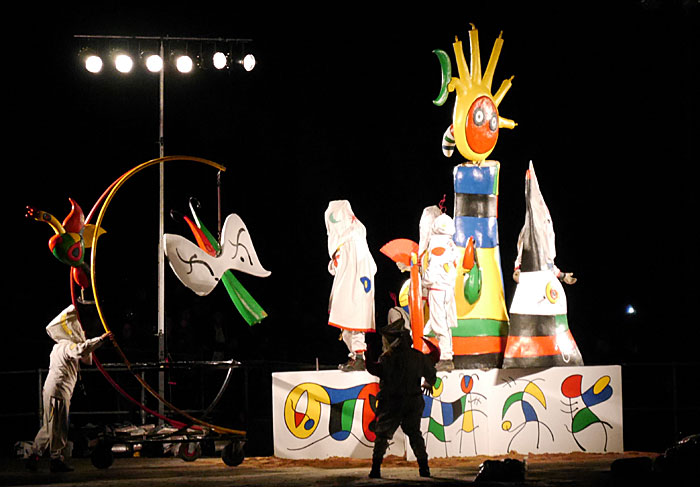 The performance was repeated on the Saturday night where the rain started with the performance, reached torrential part way through and seemed to abate at the end. However the band played on and the fireworks burned brighter in the smoke and the crowd seemed all the more appreciative at the end, giving a great cheer.
See the video in HD on YouTube by clicking on the YouTube link and selecting 720 for the quality.
© W&WL 2013