Anthony Bacon 1717-1786
Master Mariner, Tobacco Merchant, Slave Trader and Iron King
Anthony Bacon was one of the greatest merchants and industrialists of the 18th century who rose from ordinary beginnings in Whitehaven to become a Member of Parliament and one of the richest commoners in England.
Family History
Anthony Bacon was born in Whitehaven in 17171 son of William Bacon of Byarsteads, between Sandwith and St. Bees, and baptised on 24th January. William had married Elizabeth Richardson in 1710 but she died when Anthony was only 8 years old. He also had a brother Thomas Bacon who also became successful in America having taken a very different career path.
The Tobacco Trade
Nothing is known of Anthony's childhood and much of his life is sketchy but it appears that he travelled to the American colonies as a young man were he had a store in the Chesapeake area of Maryland. He was possibly only 15 years old and working for his uncle, Anthony Richardson. The store was at Dover on the Choptank river and acted as agent for the sale of tobacco which was the main trade between Maryland and Whitehaven. His ships moored in fresh water to kill the barnacles and Teredo worms and traded provisions and household goods with tobacco for the outgoing journey. It was quite lucrative and it is amazing that Bacon had become so established at such a young age, as he says that he left the colonies when he was 22 years old.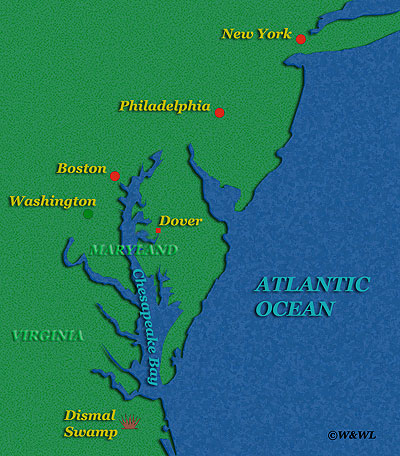 This would take us to the close 1740 when he sailed from Whitehaven as the master of the York transporting 114 criminals back to Maryland as indentured servants. These would be used as labour for the tobacco fields alongside African Negro slaves. On the return journey he had a cargo of tobacco and continued thus in the tobacco trade until he was about 30. According to an American letter of 1745 he was then a merchant in London and it would appear that he became a London agent for Whitehaven tobacco merchants and others. He is first documented in London in the 1749 trade directories as a Merchant in Threadneedle Street. He must still have been travelling to America because in that year his brother Thomas, who had followed Anthony to Maryland, introduced him to the influential Tuesday club and, as he was returning to England, he was contracted to procure a seal for the club.
With friends and contacts in both Maryland and Whitehaven he was ideally placed to prosper and became very influential. He still operated ships on the Choptank River and ran a great store there at Dover. The future American President, George Washington, who also had family links with Whitehaven wrote to Anthony Bacon and Co. in 1757 asking him to act as his agent to sell 18 hogsheads of tobacco. The first 10 sent in the Integrity, Captain Thompson, and the remaining 8 in Endeavour, Captain Younger. He expressed hope that he would get a good price but some reluctance as Bacon had obtained a poor price last time. This indicates Anthony Bacon had become so influential that although he drove a hard bargain the tobacco producers still wanted to use him due to his access to the English markets.
This esteem that George Washington held for him seems evident when he later becomes a partner with Bacon in a huge land reclamation project in 1763. The formation of The Dismal Swamp Company also included Fielding Lewis (who represented Bacon in Virginia), William and Thomas Nelson, Thomas Walker, Robert Burwell, John Robinson, John Syme, Samuel Gist, Robert Tucker, William Waters and Francis Farley. The idea was to drain a large tract of swampland so that it could grow tobacco and hemp. Each member was to provide 5 slaves for the project indicating that Bacon, as with the others, owned slaves and he actually provided 10 slaves. The scheme was to take 10 years and return 900% profit but ultimately failed. Some money was made from the cypress trees cut down which were sold for shingles but the draining of the swamp was a dream too far.
The Slave Trade
Meanwhile, from his base in London, Bacon was developing lucrative government contracts. In 1758 he was contracted to provision the forts in Senegal recently won from the French. The following year he was listed in the London directories as 'Anthony Bacon and Comp., merchants, Copthall Court, Throgmorton Street'. He furthered his government contracts by contracting to supply "seasoned and able Negroes" and supplies to the Caribbean, thus entering the infamous triangular trade. The final leg could return sugar from the West Indies or Tobacco from America. Although much is made of the vast fortunes made by this trade it was actually a very risky financial business. Bacon quitted the contract because the governor complained about his supplies, probably as margins were too tight - and as proof his successor went bankrupt. He again took on the Senegal contract and continued with it until 1778.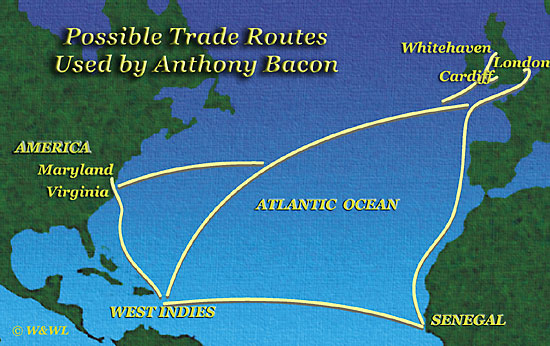 His contracts for provisioning troops in the West Indies also caused problems. Supply had to slightly exceed demand to allow for accidents but too much over supply caused wastage as perishables soon went off. The answer was to have a larger central store on Grenada to provision the smaller garrisons but this was extra expense of about £1000 per year. His government contracts between 1768 and 1776 amounted to a value of £67,000.
The Iron Trade
Bacon claimed that he faced ruin many times but by 1764 his finances seemed on a permanent up and he became the Member of Parliament for Aylesbury which he retained until his retirement. This didn't stop his thirst for new ventures and when his wife's cousin, the eminent scientist Dr. William Brownrigg approached him with a mining scheme in Wales he must have known he was on to a winner. Brownrigg was an expert on Coal and Iron mining, which he had made a study of in Whitehaven. Wales not only had iron, coal and limestone but also water which at the time was still the main source of power. Just as Whitehaven had been 100 years earlier, Merthyr Tydfil was just an insignificant village – Bacon and Brownrigg must have seen the possibility of emulating the Lowthers and turning it, like Whitehaven, into an industrial centre for trade.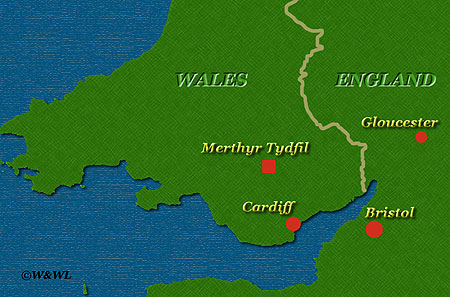 They formed a partnership in 1765 and leased the mineral rights to land 8 miles long by 4 miles wide, some 4000 acres, for £100 per year for the next 99 years. This came from Earl Talbot and Mr. Richards of Cardiff and also the Plymouth district from Lord Plymouth. However, he also needed a small amount of surface land for the ironworks etc. and this cost a further £150 per year from local farmers. They then brought in blast furnace expert Charles Wood who happened to be married Brownrigg's sister, Jemima. He constructed the blast furnace in 1767 and also built a weir on the Taff and a leat for a water wheel to power the bellows for the furnace. They also organised the building of a turnpike road 26 miles long to take the produce to Cardiff.
Wood developed the Pot and Stamping method of further refining the iron. With this high quality iron they produced cannon for the government arsenals. A quay in Cardiff built by Bacon is still called Cannon Wharf. The finery was so successful that by 1780 to secure extra pig iron Bacon also bought the nearby Plymouth works, in which he already had a partial share since 1766, from another Cumberland connection, Isaac Wilkinson. Bacon also leased the Hirwaun works in 1780 along with the rights to its coal and iron mines.
By 1777 William Brownrigg retired and dissolved the partnership and in his place Richard Crawshay took over.
Bacon wanted to produce more accurate guns and Isaac's son, John Wilkinson, developed the system of casting a solid cannon and boring it out by moving the barrel along a fixed blade. Thus, during the war with America, Bacon became the most important gun founder in Britain. The same boring method was later used for the cylinders in Watt's revolutionary steam engines. However, Clerkes act of 1782 prevented M.P.'s from procuring government contracts so Bacon arranged with Francis Homfrey to manufacture the cannon and leased him the foundry on the understanding that he procured the raw materials from Bacons furnaces. His sons actually ran the business and contrary to the agreement, set up their own furnace for the iron and did so in partnership with one of Bacon's customers. Bacon released Homfrey and brought in Richard Crawshay.
Anthony Bacon died in 1786 on 21st January as one of the richest men in the country having three iron works in Wales, coal mines on the Banklands estate at Workington and the land in Virginia. Unfortunately, his only son to his wife Elizabeth had died at the age of 12 in 1770. However, to Mary Bushby of Gloucestershire, who was his mistress in London since 1770, he had five other children, though none had reached majority by his death. Mary received £1000 plus £50 per child to bring them up until they went into education.
Anthony Bacon the second received the Cyfarthfa estate, Thomas Received the Plymouth furnace and they shared the Hirwan furnace, whilst Robert got the Workington mines. Elizabeth was to get an annuity of £300 when she reached 21 and the baby William got the remainder up to the value of £10,000 upon adulthood.
Long after his death Bacon's accounts in America were still being argued over by his executors as debts accrued before the war were still liable after independence.
The executors leased the Cyfarthfa works to Crawshay, the Hirwaun works to Mr. Glover and the Plymouth works to Mr. Hill. The Bacon boys weren't interested in the iron foundries and sold them to retire to country retreats and a life of luxury. Crawshay bought the Cyfarthfa works in 1794 and by 1803 it was the biggest in the world, employing 1500 people.
Anthony Bacon's grandson Anthony Bacon III (1774-1864) became a Cavalry General of some note but was dogged by financial difficulties all his life due to the excessive lifestyle to which he had become accustomed.
© WAWL 2007