Daniel Brocklebank (1741-1801)
Born in 1741, Daniel Brocklebank came from the nearby village of Torpenhow to Whitehaven at the age of 14 in order to serve his apprenticeship as a carpenter in the shipbuilding trade. By 1770 he had not only a profession of shipbuilder under his belt but enough capital to venture to America to set up a ship-building company accompanied by Anne, his wife of 1 year and his baby daughter, Sarah.
In Sheepscutt, New England he built 5 ships in as many years but the war with the old country was brewing. He took his newest ship, Castor, which hadn't completed its fitting out and fled for England leaving cargo he had procured behind. Unable to obtain enough provisions for the voyage he headed for the good fisheries of New Foundland. With the fish he caught and preserved using salt from between the ships timbers he made it back home to Whitehaven.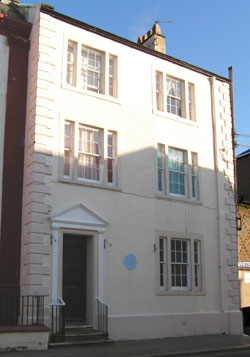 This escapade seemed to have increased the spirit of adventure within him and the next few years he spent sailing the Atlantic in Castor amongst the Naval ships and privateers. With the help of another British ship he recaptured a British merchant ship held by the American privateer, General Sullivan, and got a reward from the owners. There was money in this so he applied to be a privateer for the King - a licensed pirate. Once more he set out in Castor now armed with 26 guns and an armed crew of 45 men. In addition he ordered Spedding and Co. to build another ship the Precedent. After the sinking of Castor he ordered another Castor 2 and later the brig Cyrus. Obviously, sailing in such dangerous waters returned good profits for anyone who dared and survived. He must have been a superb mariner because he ended up making 25 journeys across the Atlantic.
Another couple of ships were purchased from Stockdale and Co. and then he purchased his own yard which produced another 25 ships which formed his new source of income. In addition he had shares in the rope making trade and many of the ships he sold.
Daniel died at the age of 59 leaving the business to his sons Thomas and John who continued to build ships at Whitehaven. They continued privateering, took part in the east India trade and in 1819 they started a passenger service from Whitehaven to America with the brig Constellation. Thomas moved to the Liverpool branch of the firm and John managed the Whitehaven company but was killed in 1831 by a fall from his horse as he tried to avoid a child in the road.
By 1840 the company had a fleet of 14 ships trading with India. The ships got bigger and moved from wood to steel and from sail to steam. Eventually they became to big to build at Whitehaven and production switched to Harland and Wolff in Belfast. Their last ship from Whitehaven in 1864 was the Mahanada which was just over 1000 tons and nearly 200ft long.
The company later became merge with Cunard which could claim to be the oldest shipping line in the world due to its Whitehaven antecedents.
© WAWL 2006