Daniel Defoe (1660-1731)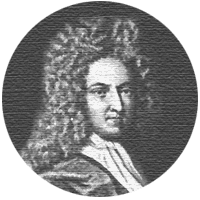 Daniel Defoe, most famous for the stranded mariner, Robinson Crusoe, was also a journalist and is respected for the factual realism of his works such as Moll Flanders and A Journal of the Plague Year. Thus, his early description of Whitehaven after less than 100 years of development would seem to be a genuine indicator of how much it had progressed.
Daniel Defoe writes about Whitehaven in "A Tour Through the Whole Islands of Great Britain 1724-26".
Whitehaven, grown up from a small place to be very considerable by the coal trade, which is increased so considerably of late, that it is now the most eminent port in England for shipping of coals, except Newcastle and Sunderland, and even beyond the last, for they wholly supply the city of Dublin, and all the towns of Ireland on that coast; and 'tis frequent in time of war, or upon the ordinary occasion of cross winds, to have two hundred sail of ships at a time go from this place for Dublin, loaden with coals.
The description of 200 sail of ships is particularly interesting because when John Paul Jones just over 50 years later makes claims of the same figure it is dismissed by later authors as a wild exaggeration produced by his ego.
© WAWL 2006