Benjamin Franklin (1706 - 1790)
his Whitehaven connections
Benjamin Franklin, one of the greatest figures in American history, though not directly connected with Whitehaven did visit the town with Dr. William Brownrigg and was probably also deeply involved in the infamous raid on Whitehaven by John Paul Jones in 1778.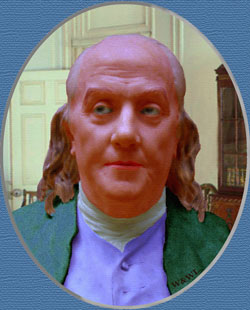 Benjamin Franklin was born in Boston in 1706. His English father, Josiah, was a soap maker and had already moved to America and produced a very large family. Thus, with little money for his education, Benjamin became apprenticed to his brother James, who published America's first truly independent newspaper. Unknown to his brother he wrote as a correspondent to the paper under the pseudonym of widow Silence Dogood. Benjamin then ran away to Philadelphia and became an apprentice printer where he met Deborah Read, his future wife, in 1724. He went to London as a printer, returning in 1726 to find Deborah had married but her husband had absconded to avoid paying debts. Franklin eventually took her as his common law wife in 1730 by which time he had set himself up in the printing business. He became a freemason the following year and later printed America's first Masonic book and also published the Pennsylvania Gazette and Poor Richard's Almanac, which made him wealthy. Both publications were largely his own work under various nom de plumes.
Along with his Masonic activities he had become involved in the community by starting the first subscription library in Philadelphia and also a fire fighting and insurance company. By 1749 he had mainly put aside business to concentrate on science. Still public spirited he invented an economic stove and as with his other inventions didn't take out a patent believing that mankind should benefit. He also invented bifocals, swim fins, a musical instrument and by mapping the Gulf Stream provided the groundwork for a much quicker crossing of the Atlantic. Franklin also founded the American Philosophical Society and was awarded degrees from Harvard and Yale.
Becoming more political he went to London in 1757 to represent Pennsylvania's rights. Deborah, his wife, stayed behind, as she was frightened of sailing. In 1762 the Universities of St. Andrews and Oxford awarded him honorary doctorates. Franklin returned to Pennsylvania in 1763 but after losing his seat returned to England where he stayed until 1775 as a sort of unofficial ambassador. He enjoyed the cultural life of England but soon became concerned about corruption in the ruling classes especially the treatment of the impoverished Irish peasantry, which worried him for the future of America. When the Stamp Duty was imposed he successfully petitioned Parliament for its abolition but set him against the British establishment.
Benjamn Franklin Visits Whitehaven
It was during this time that he decided to tour England in 1771 with Sir John Pringle on a sort of voyage of scientific interest. It was suggested he visited William Brownrigg, considered one of the greatest scientists of the day, who by then had given up his medical practice in Whitehaven to concentrate on his scientific endeavours at his home of Ormathwaite, near Keswick. Whilst at Keswick, Benjamin Franklin and William Brownrigg carried out an experiment on Derwent water to investigate if it was true that oil could calm troubled waters. They found that due to the surface tension oil would spread out to a monolayer on the surface of water and thus a surprisingly small amount could reduce the waves over a considerable area.
It appears that whilst there Franklin and Brownrigg climbed a mountain (presumably Skiddaw, which lies behind Brownrigg's house) and then visited Whitehaven to be guided down a coal mine by James Spedding. In a letter the following year Franklin wrote to Jacques Barbeu-Dubourg:-
ON THE NATURE OF SEA-COAL.
To MONS. DUBOURG. ,
I AM persuaded as well as you, that the sea-coal has a vegetable origin, and that it has been formed near the surface of the earth; but as preceding convulsions of nature had served to bury it very deep in many places, and covered with many different strata, we are indebted to subsequent convulsions for having brought within our view the extremities of its veins, so as to lead us to penetrate the earth in search of it. I visited last summer a large coal-mine at Whitehaven in Cumberland; and in following the vein, and descending by degrees towards the sea, I penetrated below the ocean, where the level of its surface was more than 800 fathom above my head; and the miners assured me that their works extended some miles beyond the place where I then was, continually and gradually descending under the sea. The slate which forms the roof of this coal-mine is impressed in many places with the figures of leaves and branches of fearn, which undoubtedly grew at the surface, when the slate was in the state of sand on the banks of the sea. Thus it appears that this vein of coal has suffered a prodigious settlement. B. F.
From this it would appear that the mine he went down was Saltom Pit, sunk in 1729 by Carlisle Spedding, which was the first to go beneath the sea. Franklin's letter predicted much in the future science of geology about sedimentary rock, fossilisation and volcanic activity. It seems likely these theories were greatly influenced by the thoughts of James Spedding and William Brownrigg who had spent a lifetime studying the mines.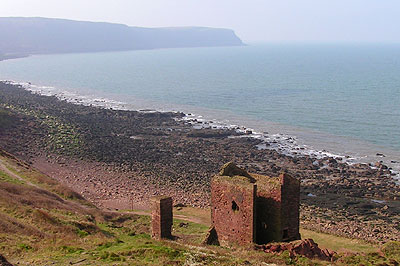 In further writing to Abbe Souliave in 1782 Franklin wrote:-
ON THE THEORY OF THE EARTH.
SIR,
I RETURN the papers with some corrections. I did not find coal mines under the calcareous rock in Derbyshire. I only remarked, that at the lowest part of that rocky mountain, which was in sight, there were oyster shells mixed with the stone ; and part of the high country of Derby being probably as much above the level of the sea, as the coal mines of Whitehaven were below, it seemed a proof that there had been a great bouleversement in the surface of that island, some part of it having been depressed under the sea, and other parts, which had been under it, being raised above it. Such changes in the superficial parts of the globe seemed to me unlikely to happen, if the earth were solid at the centre. I therefore imagined that the internal parts might be a fluid more dense, and of greater specific gravity than any of the solids we are acquainted with; which therefore might swim in or upon that fluid. Thus the surface of the globe would be a shell, capable of being broken and disordered by the violent movements of the fluid on which it rested.
In this he seems to predict the theory of plate tectonics nearly 200 years before it was accepted.
After leaving Whitehaven he wrote to his wife Deborah back in America telling how refreshed he was by his month long journey visiting friends and relations in the north and midlands of England. He was obviously impressed by his visit to Cumberland as it is the only part of the tour he describes:-
...In Cumberland I ascended a very high mountain, where I had a prospect of a most beautiful country, of hills, fields, lakes, villas, &c., and at Whitehaven went down the coal mines, till they told me I was eighty fathoms under the surface of the sea, which rolled over our heads; so that I have been nearer both the upper and lower regions, than ever in my life before...
Benjamin Franklin and the Attack on Whitehaven by John Paul Jones
Despite his efforts to reach a peaceful conclusion to the arguement between America and Britain it soon became obvious that war was in the offing and Franklin returned to America in 1775 where he helped draft The Declaration of Independence.
Benjamin Franklin then went to France to get the French to side with America. During the war he also conducted a very successful campaign against England by using privateers to attack merchant shipping causing unrest and diverting British Naval ships from other fronts to defend their own waters. Such privateers included Luke Ryan an Irish smuggler whose ships the Black Prince and Fearnot along with McCatter's Black Princess took over 100 ships before he was eventually captured. To pay privateers for their captures Franklin appointed agents at various ports. According to David Freeman in his testimony for the Whitehaven magistrates the agent at Nantes paid John Paul Jones for his attack on Whitehaven. It is no surprise then that the English regarded John Paul Jones as also being a privateer. Actually, Freeman may have been confused with Jones' meeting with Franklin.
John Paul Jones had originally travelled across the Atlantic to take dispatches to Benjamin Franklin in France. Despite the fact that another ship had arrived earlier with a copy of the dispatches, Franklin still summoned Jones from Nantes to see him in Paris. It would appear it was at this stage that the plan to attack Whitehaven was cooked up. The fact that Franklin had also visited Whitehaven even more recently than John Paul Jones would indicate that if nothing else targeting Whitehaven was a mutual decision between Jones and Franklin.
Jones became a friend of Franklin and also looked up to him as a man of learning and distinction. They also had a lot in common. Both had fathers with trades. Both had been on the run. Both had used pseudonyms. Both were masons. Both had relations back in the United Kingdom. Both felt the war was a fight against injustice but hated the killing. Both became set against slavery. Both became the celebrities of French society and had busts modelled by Houdon. They thus seemed to form a mutual liking and respect.
Benjamin Franklin, aware of the unrest in Ireland, might have thought that the disruption of its coal supply would cause further problems. He could also have been predicted the psychological effect of an attack on mainland Britain and the consequential diverting of military power to protect the homeland. A very shrewd politician, he no doubt realised that it would not be a very good idea to be associated with such an act which in modern terminology could be considered terrorism. It seems strange that a man who spent all is life trying to improve life for his fellow man would plan the destruction of innocent people's property but if he did it was prudent to distance himself from it by allowing the vain young Captain to take all the credit. One wonders how much John Paul Jones was in fact acting as Franklin's puppet.
One thing is sure - Jones told his men that it had been agreed they would be paid for any ships they destroyed in Whitehaven harbour as if they had captured them. If this was true only someone like Franklin could have sanctioned it.
Jones's orders hinted at it in the phrase "you shall judge best for distressing the Enemies of the United States, by sea or otherwise"
Benjamin Franklin and John Adams wrote to John Paul Jones after the raid on the 10th Aug 1778:-
"We shall recommend the men who landed with you at Whitehaven, to the favor of Congress, because we think they merited it ; but lest our recommendation should miscarry, we wish you to recommend them, and enclose in your letter an extract of this paragraph of ours. As they have done to themselves so much honor in this expedition, perhaps Congress would approve of the deduction of the advance at the time of entry, which they all received from me, being made from their wages in America, that the men may have their prize money here."
The C.I.A. now consider Benjamin Franklin one of the founders of American Intelligence because of his covert activities in securing victory for America in the war of Independence.
Franklin eventually returned home to America where he became President of Pennsylvania until 1788 and campaigned against slavery until near his death in 1790. His important role in American history is now celebrated with his image on bank notes and his name given to buildings.
Return to John Paul Jones index

© WAWL 2008