Mathias Read (1669-1774)
Mathias Read has been described as the father of Cumbrian painting and was one of the finest landscape painters in England at that time. In his long life span he painted probably hundreds of paintings on a wide range of subjects. In Whitehaven he is still best know for one masterpiece - A Birds Eye View of Whitehaven c 1738 for as a picture paints a thousand words it provides more information about Whitehaven at that date than any other single document.
We know nothing of his life before Whitehaven except that he was born in London in 1669 of William Rede and Hannah Blount. He arrived in Whitehaven about 1690 after the Battle of the Boyne in Ireland presumably on his way home. It is said that a captain of William III's army had employed him. About the same time a Dutch artist, Jan Van Wyck arrived and painted "Prospect of Whitehaven from the Sea." It has been speculated that he was apprenticed to Wyck in his employment as a war artist. This may explain his tendency to the aerial view landscapes that show the lay of the land.
Once in Whitehaven he was painting figureheads on ships etc. when William Gilpin, Sir John Lowther's agent, noticed his abilities. He set him to work doing copies of Lowther's paintings which no doubt brought him into contact with Wyck and Sir Godfrey Kneller who were also working for Lowther. The Flatt, Lowther's Whitehaven residence, had a great collection of painting's so Read was not short of inspiration and tutors. Thus, we learn from Gilpin's letters to Lowther that Read quickly improved and soon everyone in the area wanted his work.
Apparently he worked hard for a moderate price and lived frugally. Thus he always had work and became wealthy enough to purchase a house on the corner of Cross Street and Irish Street. He settled there for the rest of his life after marrying local girl, Elizabeth Hinde. They had three children William (1703), Jane (1705) and Elizabeth (1707). Unfortunately, William died at the age of 21 and Jane even earlier in her teens. Fortunately Elizabeth survived and married.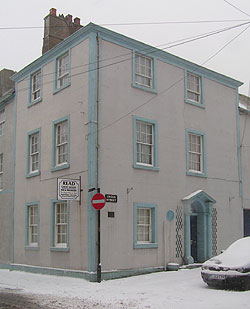 It was said that nearly every house in the town and the surrounding area that could afford it had one or more of his paintings. Unfortunately, very few of these survive. This was because many were painted with oil on board over fireplaces. These eventually cracked and discoloured because of the smoke and were later painted over or taken down as fashion changed. Some were painted on plaster that degraded over time. However, we are unlucky in losing some of his greatest works to fire. This includes the altarpiece of St. Nicholas church, entitled The Last Supper, which was destroyed as recently as 1971.
In addition to much work he did on Whitehaven's churches of St. Nicholas and Holy Trinity, Mathias Read was commissioned to work for St. Andrews Church at Penrith including the altarpiece which has long since been destroyed. It is probable that he also did the altarpiece at Crosscanonby and the royal arms there and at many other locations. Evidently although famed for his landscapes he would tackle most subjects including religious subjects and portraits.
Fortunately, because he was one of Dr. Brownrigg's patients we have a description of Mathias himself at the age of seventy "Very thin and of a melancholy disposition living a very temperate way of life, of a peevish nature and utterly wrapped up in his work." He had good health all his life except for slight attacks of gout, but on trying to cure himself with cold baths he made things worse and suffered great pain and was "moaning and groaning continually". He eventually died in 1747 and was buried in the Northeast corner of Holy Trinity Church. For about a hundred years after, his gravestone was painted over by the town's painters thus preserving it. The inscription read: -
"Here lies inter'd the Body of Mr Mathias Read, Painter, who died November the 8, 1747, Aged 78 years, Here also lies Mrs Elizabeth Read, his wife, who died April ye 12th, 1748, in ye 79th year of her Age"
The gravestone was nearly disposed of for cheap building material by Rev. Harrison until told of its importance. He then had it fastened to the Scotch Street wall for safety.
Apart from his paintings his legacy to the art world seems to have been those that he tutored and inspired. He taught his patron William Gilpin and also his son Captain John Bernard who in turn taught his sons William Gilpin, Rector of Boldre who went on to publish works on the aesthetics of Landscape painting and Sawrey Gilpin R.A., a famous artist in his own right. John Bernard also taught George Hoare, Guy Head, Joseph Stephenson and Robert Smirke and guided Warwick Smith. Read's own nephew Joseph Hinde became a painter and handled the relocation of the late James Lowther's paintings. Henry Hinde his brother was also a painter. Strickland Lowry another Whitehaven artist probably served under Joseph and he had a son Wilson Lowry who became an engraver as did his son and daughter.
The Birds Eye View of Whitehaven
This painting which hangs in The Beacon, Whitehaven, was one of at least four painted by Read. The interesting thing is that each version is slightly different as they were painted over a period of time and there are also two different engravings of the painting by Richard Parr. The intriguing point is how much the differences are the record of a changing Whitehaven, how much are artistic licence, how much are error and if possibly they even preceded development to show how things would look. Thus, they are difficult to date exactly.
Two other paintings of Whitehaven also survive one from the South called View of Whitehaven Port is much earlier than the Birds Eye View, probably about 1715. It is currently part of the Beacon collection. The other Whitehaven view is from the North on Bransty and shows Whitehaven cradled by the hills and the bay. It is slightly unusual in that the foreground shows his usual figures to give distance and the landscape is well painted but the houses are very much drawn as blocks and St. Nicholas has a spire.
Portraits of several Whitehaven people exist including a young Joseph Hinde, the Littledales and William Gibson. A portrait of a young James Lowther at Holker is also attributed to him.
Note his name spelt Read (in his Will and on his gravestone and by Spedding) has also been spelled Mathias Rede (his father's spelling) Mathias Rhead (by Brownrigg) and Mathias Reed (Sale of land).
© WAWL 2006