William Wordsworth (1770-1850)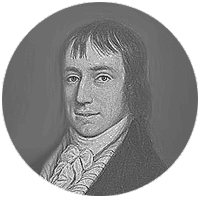 William Wordsworth was born 7th April 1770 in Cockermouth to John Wordsworth and his wife Ann (nee Cookson). He had three brothers, Richard the eldest and later John and Christopher, and a sister, Dorothy. Their childhood home on the main street of Cockermouth is now owned by the National Trust who have it displayed to show how it was in his day.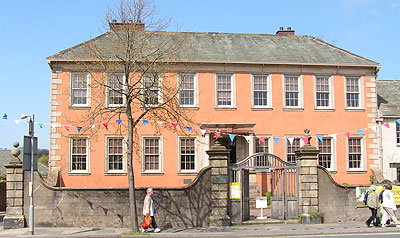 Wordsworth House, Cockermouth
This imposing house reflected the importance of his father as James Lowther's law agent. His grandfather Richard had been Clerk of the Peace and Receiver General of Westmoreland. One would have expected that being born into such an important family, life would have been easy for William. However, the early deaths of his parents left him reliant on his relatives for the end of his childhood.
His mother died of pneumonia when he was only 8 year old and he had to spend even more time at his grandparents in Penrith. Within months he was separated from his sister, Dorothy, who went to live with relatives in Halifax. William and his brother Richard less than a year later became pupils at Hawkeshead grammar school.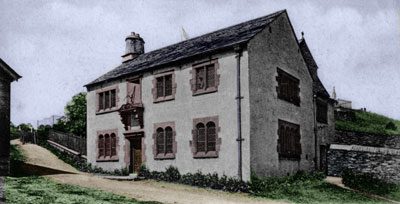 Before Christmas 1783 his father John had become very ill and died before then end of the year. This had been caused by him losing his way returning home from Millom where he was coroner and having to spend a night outside in mid-winter. It was no-doubt because of this work and his other duties for James Lowther that his father spent little time with William and thus it was an even greater shock that his father left little estate having spent £4000 of his own money doing Lowther's business. A debt that wouldn't be settled until after James's death.
Thus, the young Wordsworths became wards of their uncles one of which was Richard Wordsworth of Whitehaven. He was controller of Customs there and we know that during at least one holiday from Hawkeshead William spent Christmas there. It seems likely that as he didn't seem to get on with Uncle Christopher at Penrith he would prefer to spend as much time as possible with Richard at Whitehaven.
Later in life he mentions Whitehaven in introducing one of his poems, written whilst visiting his son who had become rector at Moresby:-
ON A HIGH PART OF THE COAST OF CUMBERLAND

Easter Sunday, April 7

THE AUTHOR'S SIXTY-THIRD BIRTHDAY
The lines were composed on the road between Moresby and Whitehaven while I was on a visit to my son, then rector of the former place. This and some other Voluntaries originated in the concluding lines of the last paragraph of this poem. With this coast I have been familiar from my earliest childhood, and remember being struck for the first time by the town and port of Whitehaven, and the white waves breaking against its quays and piers, as the whole came into view from the top of the high ground down which the road (it has since been altered) then descended abruptly. My sister, when she first heard the voice of the sea from this point, and beheld the scene spread before her, burst into tears. Our family then lived at Cockermouth, and this fact was often mentioned among us as indicating the sensibility for which she was so remarkable.
THE Sun, that seemed so mildly to retire,
Flung back from distant climes a streaming fire,
Whose blaze is now subdued to tender gleams,
Prelude of night's approach with soothing dreams.
Look round;--of all the clouds not one is moving;
'Tis the still hour of thinking, feeling, loving.
Silent, and stedfast as the vaulted sky,
The boundless plain of waters seems to lie:--
Comes that low sound from breezes rustling o'er
The grass-crowned headland that conceals the shore?
No; 'tis the earth-voice of the mighty sea,
Whispering how meek and gentle he 'can' be!
Thou Power supreme! who, arming to rebuke
Offenders, dost put off the gracious look,
And clothe thyself with terrors like the flood
Of ocean roused into its fiercest mood,
Whatever discipline thy Will ordain
For the brief course that must for me remain;
Teach me with quick-eared spirit to rejoice
In admonitions of thy softest voice!
Whate'er the path these mortal feet may trace,
Breathe through my soul the blessing of thy grace,
Glad, through a perfect love, a faith sincere
Drawn from the wisdom that begins with fear,
Glad to expand; and, for a season, free
From finite cares, to rest absorbed in Thee!

1833.
The remarkable thing is that he didn't write much more about Whitehaven, a town that was a busy metropolis at the time and incredibly exciting for a young child visiting. Remember, the John Paul Jones raid occurred only weeks after his mother's death. His father contributed £1-1s to the fund for the defences of Whitehaven after the raid. His uncle Richard was in charge of customs at the time and also contributed £5-5s to the defence fund.
© WAWL 2006