Intro Commercial Old Cars Modern Cars Bikes
West Cumbria Vintage Rally 2003 was once more a great success. This is partly due to the fact that it isn't just a collection of old vehicles but a family day out. The collections tent held several displays of bygones. The stall below shows a collection of all things brass. Another showed an unusual collection of fuel containers and at a safe distance was a collection of hundreds of match boxes.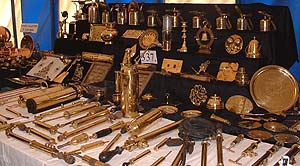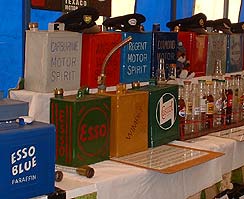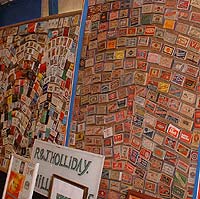 A car boot collection of goods for sale around the field came up with the occasional surprise such as this German machine gun along with tons of what to 99.9 percent of the population would be described as junk, but to the one collector looking for a particular item is regarded as treasure. Music was provided not only by the fairground organs but a live performance of local folk songs and popular melodies by Dennis Westmorland.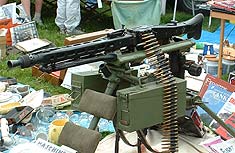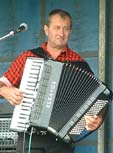 An interesting feature this year was a chainsaw sculpture demonstration. A solid tree log was noisily fashioned into sculptural objects for the garden which magically appeared as chunks of wood fell from the core.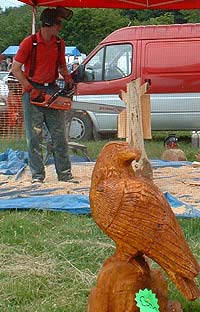 As usual around the edge of the field were many stalls selling crafts outdoor wear, garden furniture etc. Also this year was this microlight which no doubt gives a wonderful flying experience but close up appears worryingly held together with string and wire.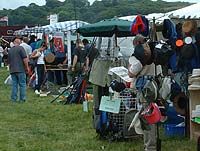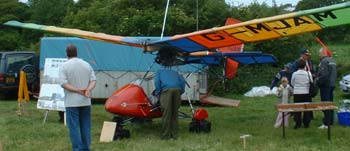 The bottom corner of the field held the usual funfair with many traditional rides and amusements.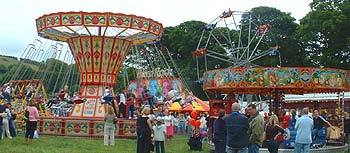 Along one edge of the field are the stationary engines. The one below is a Blackstone built in 1923. It was found on a farm badly frost damaged and only sold on condition that it would be restored to running order. It certainly has been - now looking brand new it has its own trailer with protective canopy to keep it in mint condition.