Whitehaven Windows Wallpaper
Instructions for Internet Explorer:
select the image from below that you wish to use as Windows Wallpaper - the background to your computer desktop.

When the full size image appears - right click and choose Set as Background

If you want to keep the image you can click on Save Picture as... and set it as a background later
NB. In Firefox the commands are Set as Desktop Background and Save Image as...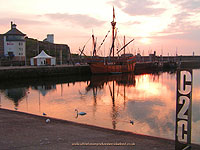 Matthew at Sunset (1024x768 - 153k)