Whitehaven
Coates Lane
Coates Lane used to be known as Roper Alley as it connects Queen Street with Roper Street. It probably marks the end of the original ropewalk as Roper Street bends at this point. Since houses were cleared on this side of Queen Street it now opens into an attractive space known as Washington Square. Here a small ship's cannon has been mounted and a mural painted on the wall of a ship carrying George Washington's father back to America - the connection being that his grandmother Mildred Warner married George Gale who's brother had the house across the road.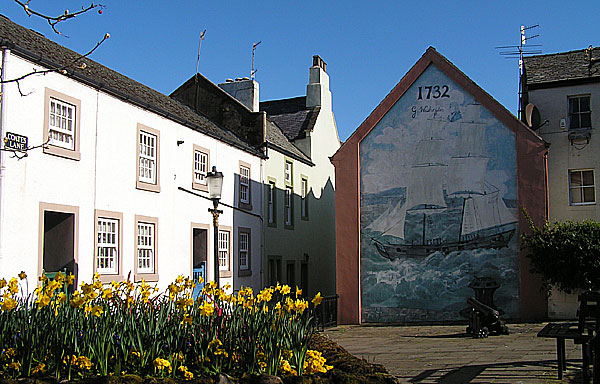 On Coates Lane is also the former premises of the Bank of Whitehaven. Thomas Hartley and his brother formed the bank with Littledale and Potter in 1786. In 1793 George Harrison formed another bank with Hamilton, Sergeant and Moore and these eventually merged. In 1929 a meeting was held to from the Joint Stock Bank which became the Bank of Whitehaven.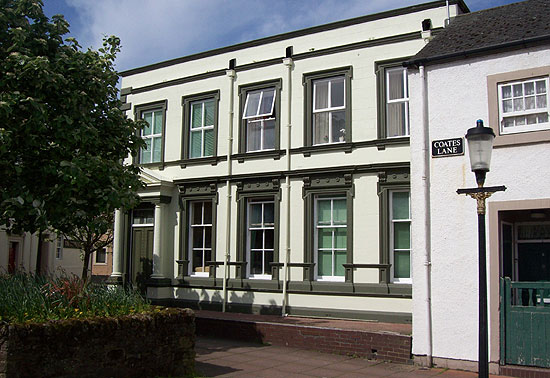 This bank building was the birth place of Dame Edith Mary Brown in 1864 who was a pioneering early female doctor. After graduating in Edinburgh and Brussels, Edith Mary Brown became a Baptist missionary and set up a medical college and hospital in India in 1894. Her work was rewarded with the title of Dame Commander of the British Empire granted to her by King George V in 1931.
© WAWL 2009