Whitehaven
Quay Street
Quay Street leads from Strand Street to West Strand on the Harbourside. This was part of the oldest part of town that had grown up around where the River Poe entered the bay. As a consequence there were lots of buildings loosely arranged about small courts and alleys bearing the names of those that owned them. Thus between Quay Street and Bardy Lane we had John's Lane, Littledale Lane, Swinburn Court, Cooper's Court and Patterson's buildings.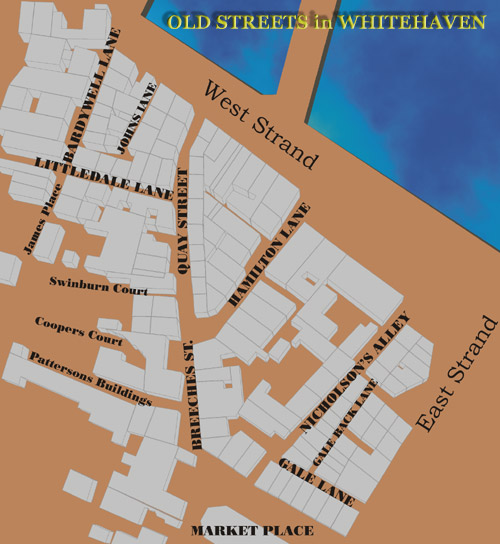 On the other side of Quay Street was Hamilton Lane, Gale Lane, Gale Back Lane and Nicholson's Alley. The narrow section of Quay Street between Hamilton Lane and the Market Place was at the beginning of the 19th century known as Breeches Street due to the fact that a maker of leather breeches had a pair hanging outside his shop rather than a painted sign.
The houses have now all been removed to make way for two car parks on either side of the road.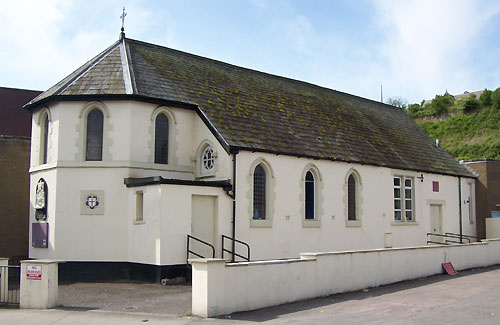 This small Roman Catholic church is the only building left along Quay Street. Inside it looks more like a Methodist chapel with its wooden beams and a lack of ornate decoration. This was because the people in this area of town were so poor that some were reluctant to venture into a large "posh" church, when they might not even have had shoes to wear on their feet, so this small plain building might be more able to cater for their spiritual needs.
© WAWL 2009