Whitehaven
School House Lane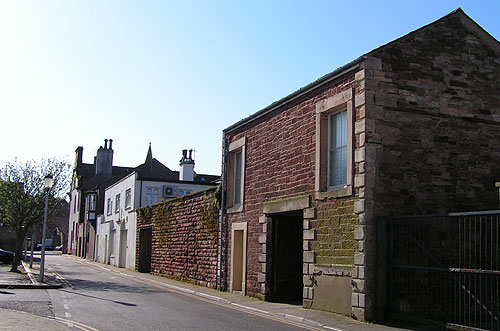 School house lane in Whitehaven lays between Queen Street and Scotch Street.
Schoolhouse lane is named after the school that was built in 1694, the time of the first St. Nicholas church, using stone from the old chapel and £120 donated by Sir John Lowther. There had been some objection to pulling down the old chapel and reusing the stone in this way was shrewd political move that helped to win over the majority. The building took only 8 months to complete and was of two storeys with a cupola and slate roof. The first teacher was a William Jackson who had been a pupil of Richard Cooper the intended Schoolmaster who had died during the period of construction. The initial intake was of 40 boys learning English and Latin downstairs with the upstairs room later accepting students of Mathematics, which included navigation.
School house lane now just contains a strange collection of buildings at the back of Lowther Street and a small car park.
© WAWL 2009