The Multi-storey Car Park
New face for red brick monster
2007
The multi-storey car park on swing pump lane was built in the 1970's when every town was building one as the answer to a shortage of space for parking the ever increasing number of cars. In the centre of a modern city where real estate was at a premium it was a viable solution - in Georgian Whitehaven it always sat uncomfortably. The building provided four levels of parking on top of ground level shops and was connected to the the town by a bridge across the road and a spiral ramp down into the market place. Unfortunatley, the shops always struggled for profitability and the car park which was dark and unwelcoming was not well used. The connecting bridge was removed due to safety issues.
One answer would have been to knock it down and create a large single level open-air car park.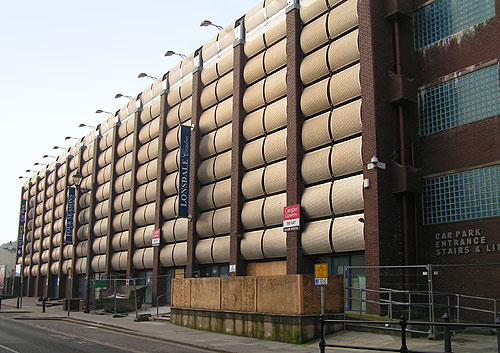 However, it was decided to give it another chance. It has now been given a lot more lighting and C.C.T.V. for confidence boosting security and the front has been faced with 252 curved perforated metal panels. It now resembles a huge filing cabinet. It is probably an improvement if only based on the fact that it would have been difficult to make it worse.
For added effect it lights up at night to give a touch of Blackpool to the town centre.