Tall Ship Endeavour At Whitehaven
Arrival On Board Events Departure
HM Bark Endeavour a fantastic replica of Captains Cook's famous ship arrived in Whitehaven 8.10 am Friday 24th September. Unfortunately, this was over half an hour earlier than expected and so many people missed its entrance to the harbour. However, seeing such a magnificent ship crossing the harbour on a perfect blue-sky morning dissolved any disappointment. Firing of a cannon onboard would have no doubt awoken everyone to its presence.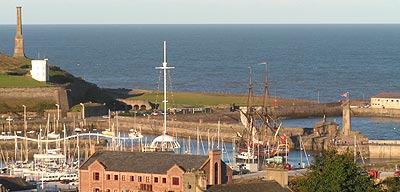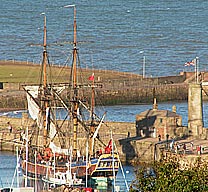 Soon the Endeavour was moored alongside the Sugar Tongue, although this did require a bit of shoving from a small charter boat. The crew looked splendid in their 18th century costumes as they directed operations and tied off the mooring ropes.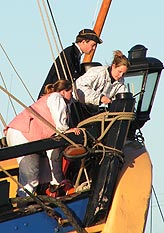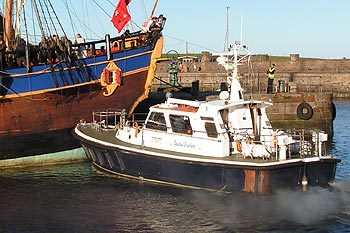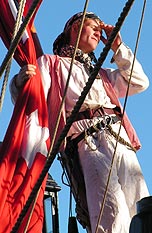 Finally in place, the Endeavour looked spectacular in front of the C2C sculpture which marks the start of the Coast to Coast cycle route. Many cyclists stopped for photos in front of the sculpture with the ship in the background to provide an extra special souvenir of their trip.

That the ship looks quite at home in Whitehaven is not surprising because the original Endeavour started life as a collier bark Earl of Pembroke. During the time of Cook's voyages to New Zealand and Australia, Whitehaven was building ships just like this and the harbour would have been absolutely full of similar vessels.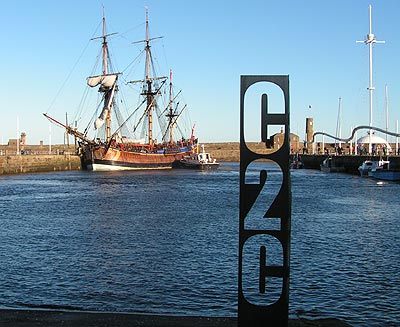 A Continental market on the harbourside provided an extra attraction for visitors and locals alike with a wide selection of goods for sale.

Endeavour at Whitehaven