SHIPS NIGHT AIRCRAFT HARBOUR ENTERTAINMENT
Whitehaven Maritime Festival 2003 was the third, and best, to draw the crowds to the historic harbour of Whitehaven. There were many visitors from all over the country and some from abroad taking the numbers up to possibly 200,000 over the 2 days.

A lot of separate attractions combined to provide non stop entertainment for the whole family including a stunning display by the Red Arrows display team, a visiting tall ship, Zebu, and the UK Jet-ski display team performing in the harbour. Famous jazz trumpeter Kenny Ball and the Jazzmen,and various other artists, performed on three separate stages throughout the weekend providing constant music and a brilliant firework display lit up the sky on Saturday night watched by thousands.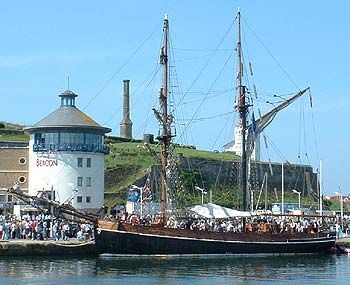 With the visit by the USS Leyte Gulf, Lady of Man, and Steamship Balmoral, street entertainers, a marina full of yachts dressed with buntings, pirate re-enactment, a large fun-fair, perfect weather and a great party atmosphere - it is safe to say the festival was an absolute success.
SHIPS NIGHT AIRCRAFT MUSIC ENTERTAINMENT
Whitehaven Maritime Festival 2003