Lakes Alive 2010
Arts and Entertainment on Whitehaven harbour
Street Entertainers Night Procession 2011
Sunday Afternoon May 30th Whitehaven Harbour
After the success of last year's surreal but beautiful aerial ballet by Theater Tol over Whitehaven Harbour another event has been arranged by Lakes Alive bringing excitement and entertainment to summer's evenings over the End of May Bank Holiday Weekend.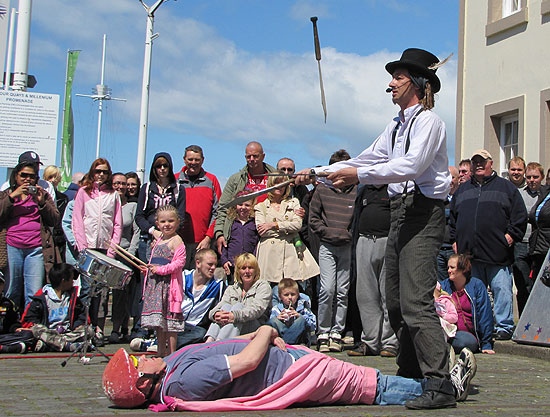 On the Sunday afternoon the crowds were wowed by some some really great street entertainers with a variety of comedy acts and circus performances.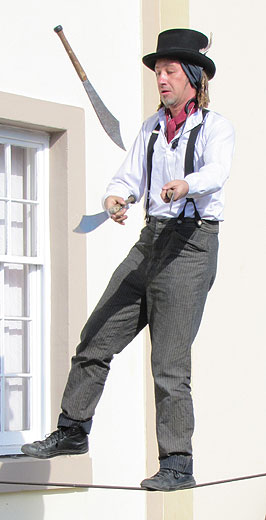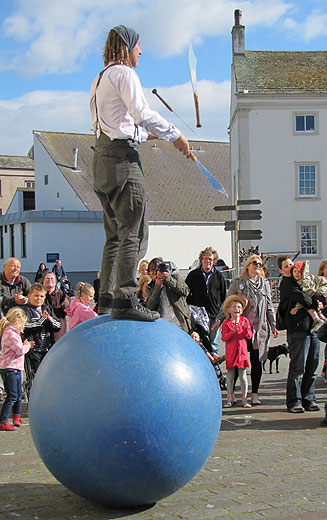 The weather stayed fine again in Whitehaven, although a cold wind meant it was not quite as warm as recent weeks and also made it even more difficult to balance on a tight-rope with one foot whilst juggling knives.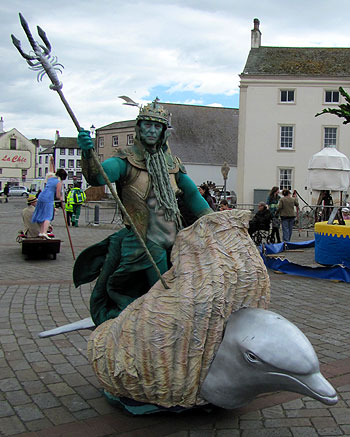 The Tritons sped around The Hub of Whitehaven Harbour between the other acts upon their dolphin chariots.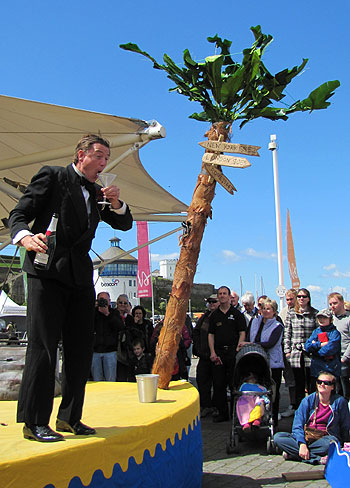 Artizani brought to us, via the delicate art of slapstick, a Robinson Crusoe comedic tale of a Champagne Charlie washed up on a desert island...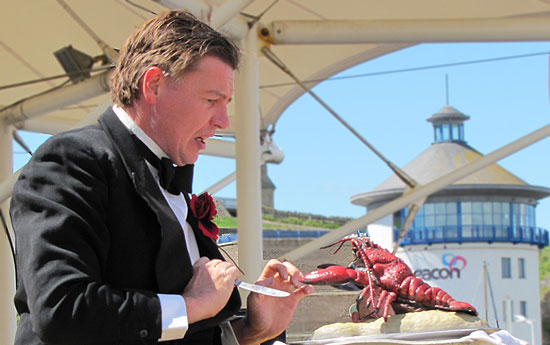 ... who faces a struggle for survival with little to eat or drink and the pangs of loneliness leading to an unlikely companionship ...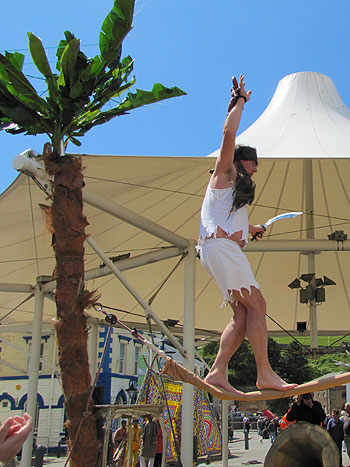 ... and numerous low budget adventures along the way ...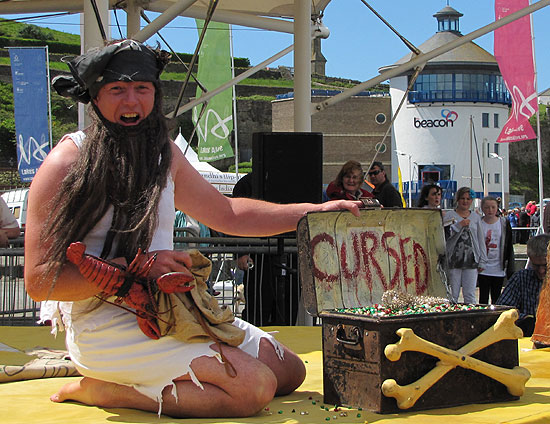 ... ultimately finding a pirate treasure after surviving madness and mild peril.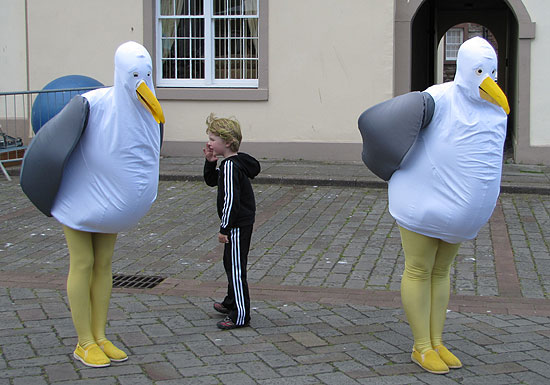 This is probably why visitors to the harbour are advised not to feed the seagulls - after too many chips they reach an incredible size.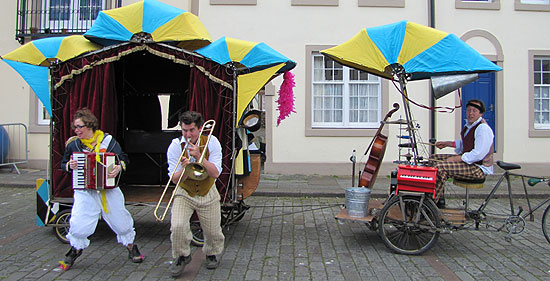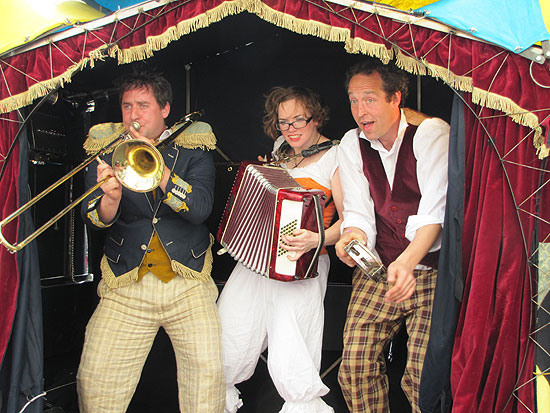 Ramshacklicious and their smallest mobile vaudeville theatre in the world entertained with a variety of acts performed by the three strong troupe on and off their pedal propelled tiny stage.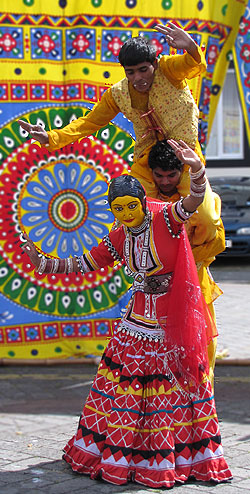 Probably the most colourful performance and the most varied act was the Kawa Circus - a team of multi-talented performers from Rajasthan in India. They performed with a variety of skills from dance, magic, theatre and circus acts. Here a bewitched young girl becomes a robotic puppet controlled by the men.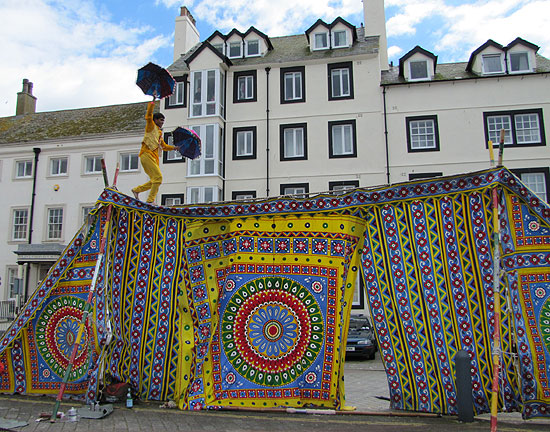 High above the street one of the performers braves the high wire using umbrella's for balance on what was a rather windy day beside Whitehaven's harbour.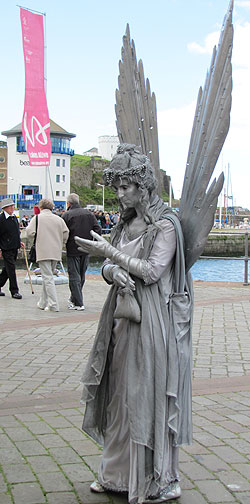 This poor gentle angel appeared to have been transported from some other-worldly plane of existence and seemed to be reaching out for contact with passers-by.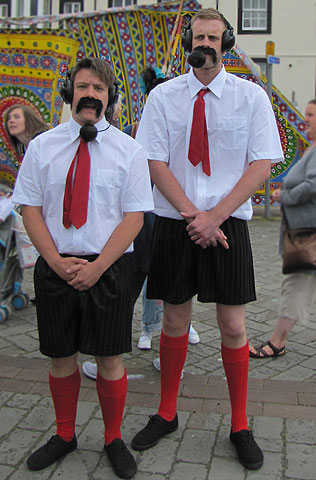 If you want a commentary on everything you do then just stick close to this pair of sports commentators who wandered around handing out their verbal humour.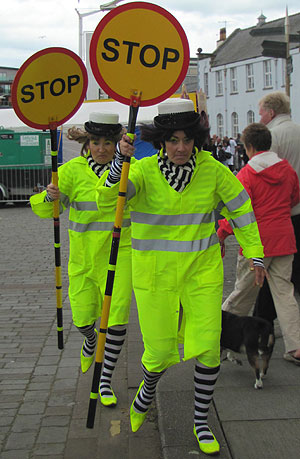 Another comedy duo were this pair of indomitable lollypop ladies whose instructions you disobey at your own peril.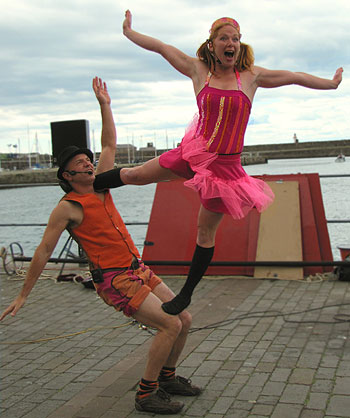 The Banjo Circus provided not only some great music as a banjo duet but incorporated that into a circus act.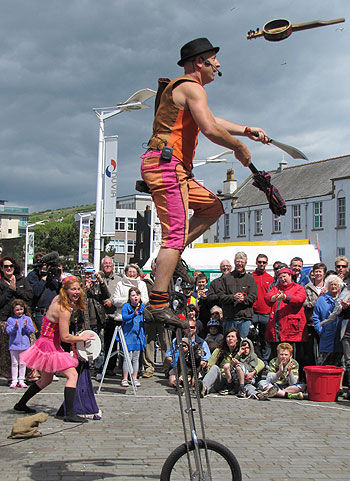 The finale involved, after some amusing audience participation, juggling a blade, brolly and banjo whilst balancing atop a very tall uni-cycle.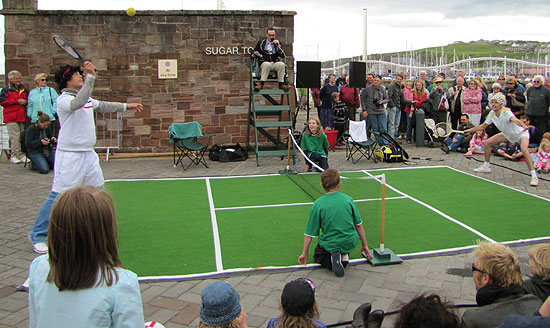 Local Street entertainers the Fairly Famous Family brought all the glamour and excitement of the Wimbledon Centre Court to Whitehaven harbour - well, actually, no they didn't, but it was funny and entertaining.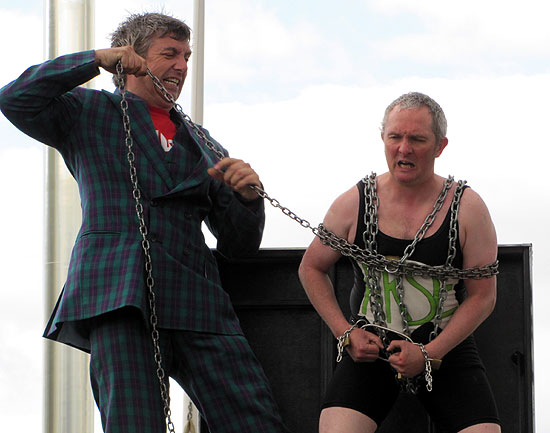 Another comedy act was Markmark productions The Maniax - a high platform escapology act on the Sugar Tongue.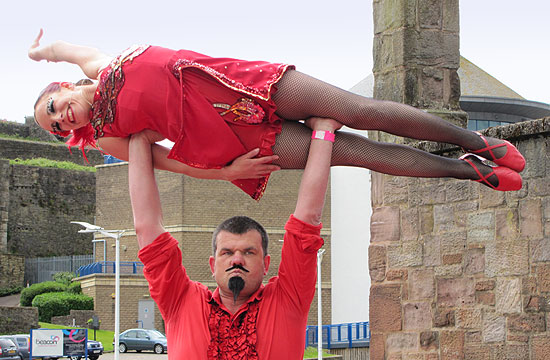 Strictly Dumb Prancing were a comedy dance act based on the story of a prima-donna of the ballroom world looking for a partner to dance with...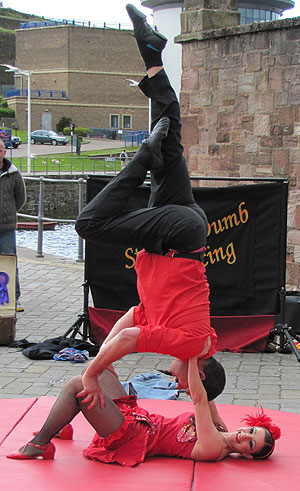 ...only to find someone close at hand who possibly didn't agree that she should be the only star of the act.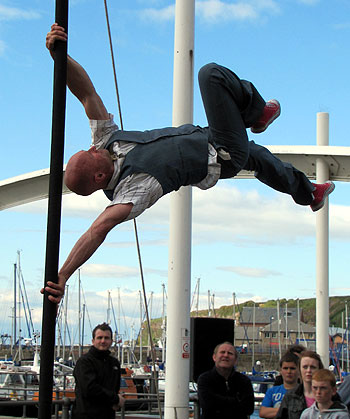 Bongo Bolero productions brought us the Dick Danger Show which involved some great skills on a very high pole...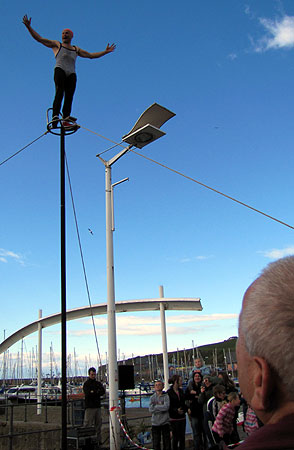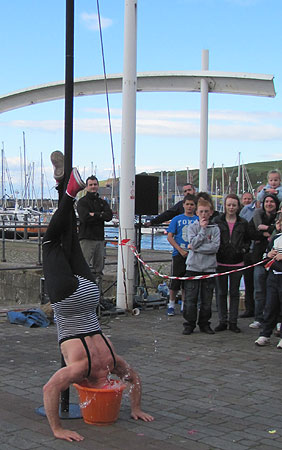 ... followed by some precarious comedy and a terrifying plunge from the top into a bucket of water.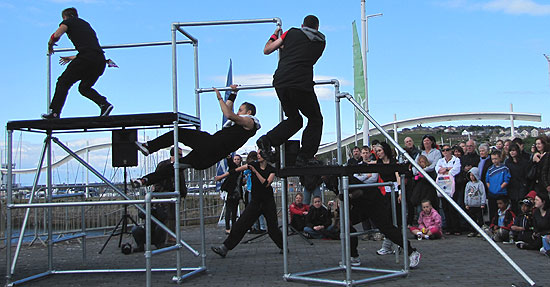 Urban playground used a combination of street dance and parkour free-running across various specially created multi-level platforms to produce a unique act which combined athletic acrobatics with graceful movement.