Whitehaven
Windmill Brow
Windmill Brow is named after the windmill that was situated where the playing field is now in the corner formed by High Street and Wellington Row. The windmill can clearly be seen on the Matthias Read paintings, above the rope walk which is now George Street, on the brow of a hill looking out to sea.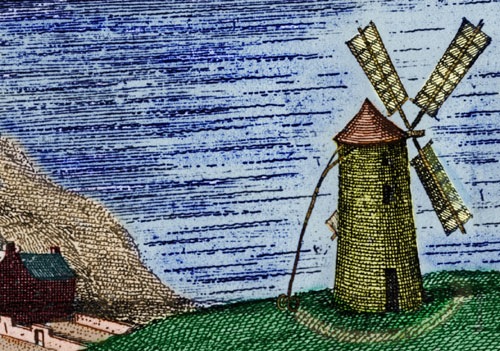 Interestingly the design of the windmill appears to change on the different versions of the Matthias Read painting. Here on an engraving taken from the painting it appears to be a stone built circular building about 4 storeys high. The roof appears from the colour in the paintings to be made of clay tiles, rather than slate, which would make it lighter, although it may have been wooden shingles or even copper with its very pointed shape. The sails appear to be constructed as wooden frames covered in sail cloth. However, in the Bird's Eye View painting on show at The Beacon museum the structure appears totally different. The mill appears hexagonal or octagonal in shape and made of wood where possibly the whole upper structure turns to the wind. In the engraving above the mechanism seems to be simply a long pole that reaches to the ground where it runs on two spoked wheels around a track - this turns the conical roof and the sails around to face the wind.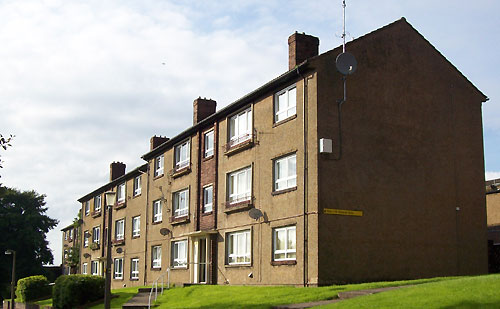 Windmill Brow originally referred to a small lane that headed west off Queen Street towards where the Windmill used to be. Windmill brow still exists at this side of the road but when the new flats were built in the 1960's Windmill brow was extended, slightly further down the hill, all the way to Scotch Street.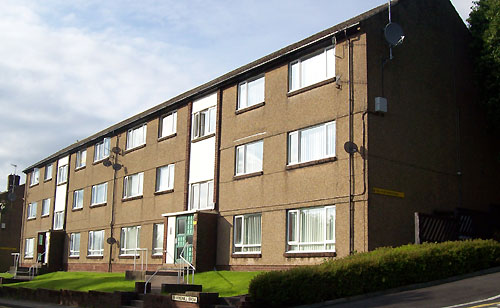 These flats replaced old terraced houses that had fallen into a bad way and although of modern design with the three storey design and pitched roofs they have proved a far better choice that the high-rise blocks that beset so many other towns during that period. Each block has an access road at the front from which they are separated by a lawn and at the back there are private yards for drying washing. As they are staged up the hillside the upper storeys get good views across the town and out to sea.
© WAWL 2010