Whitehaven Festival 2009
Food Festival
Festival Tall Ships Food JetSki Blades Vulcan Music
After the great success of last festival's cookery demonstrations at St. Nicholas church in the large marquee it was decided to make food central to Whitehaven Festival 2009. As well as continual demonstrations at St. Nicholas gardens there was also a stage set-up at the end of the Sugar Tongue utilising the 27m square mobile TV screen provided by Stobart.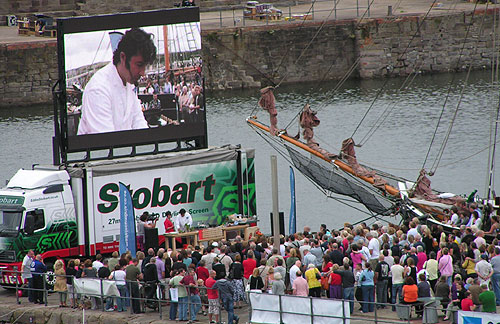 This allowed everyone close-up action of demonstrations by a number of star TV chefs. These included Jean-Christophe Novelli, Ainsley Harriott, Nick Martin, Craig Sherrington, Michael Cole and Whitehaven's Zest TV cook Ricky Andalcio and Nurul Hoque from the Akash.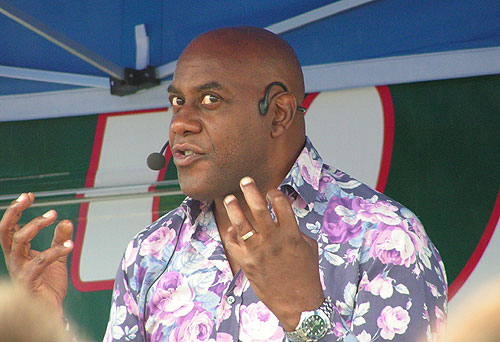 Ainsley Harriott must be Britain's most animated man and he didn't seem to stop, from first thing in the morning to last thing at night. In a shirt covered in purple roses he was in every sense a colourful character.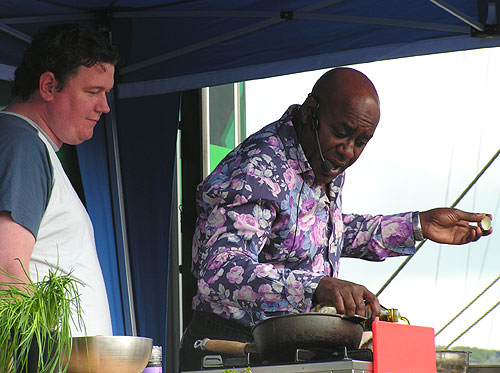 Ainsley's infectious enthusiasm made for great entertainment as he invited people from the crowd up on stage to help him prepare various dishes. Not satisfied with just adding ingredients to the pan he would put on some music and dance as he chopped and prepared ingredients which he turned into an impromptu routine with his guest.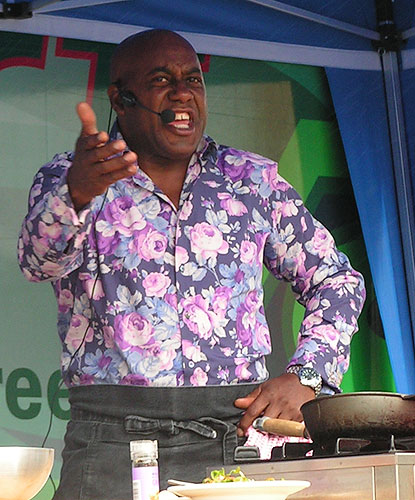 Then he would suddenly stop and expound his views on life or start a conversation with someone in the audience but then dive back into the cookery and throw out some useful tips to the crowd - a great entertainer.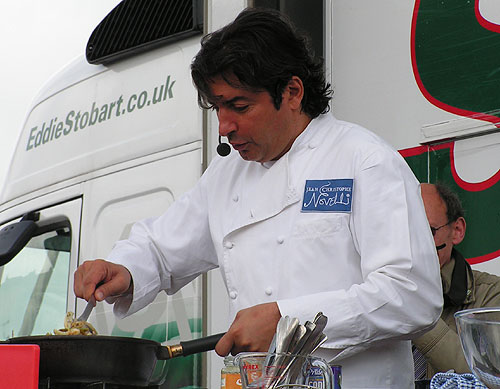 Jean Christophe-Novelli returned to Whitehaven after the success of the last festival and fascinated audiences with his passion for cooking.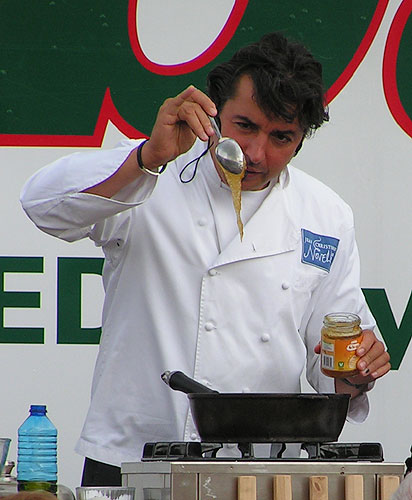 Also inviting guests onto stage he gave them a personal lesson in cookery whilst at the same time passing on his great knowledge to the enthralled audience.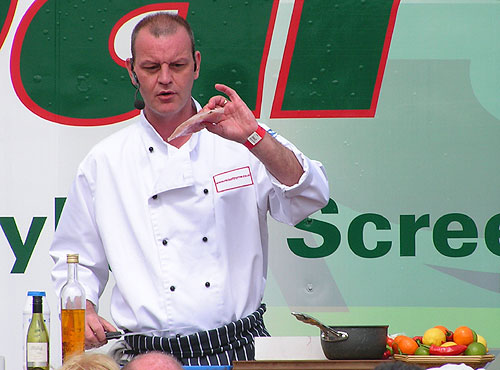 The nationally known chefs were backed up by a line up of local chefs that are well known in the area for appearances on TV, working in local restaurants or like Nick Martin, seen here, giving demonstrations at various food gatherings.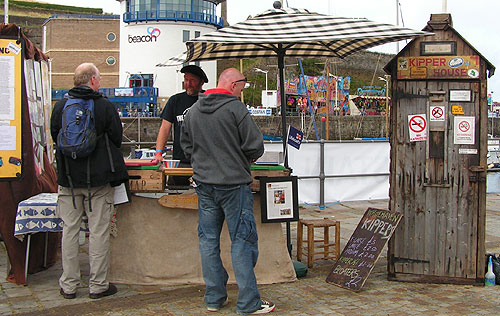 Beyond the Chefs there was even more to interest food lovers at the festival - the kipper man, aka Mike Smylie, a maritime historian, not only had some produce to sample but had an interesting display on the complete history of kippers and the herring fleets.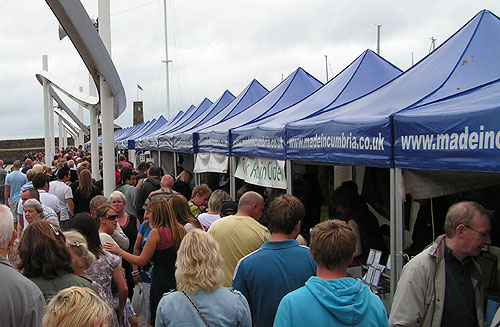 There was also a good range of food to sample and buy. Made in Cumbria had tents almost the full length of the Lime Tongue quay with many of them selling locally produced meats, cheeses, pastries and beverages. Along the millennium promenade there was also a large continental market featuring French, German and Belgian sausages, cheeses, breads and sweets. Even the normal burger vans were selling genuine local Cumberland sausages in their hot dogs.
Return to Western Lakeland Events
External links
the official website www.thefestival.org.uk
Made in Cumbria www.madeincumbria.co.uk
Nick Martin www.nickofthyme.co.uk
The Kipperman www.kipperman.co.uk
JC - www.jeanchristophenovelli.com
Ainsley - www.ainsley-harriott.co.uk